The menopause signals the end of a woman's menstrual cycles but the term can describe any of the changes you go through just before or after you stop having your period. One area that's affected by the menopause is your skin; as estrogen levels fall, your complexion can become dry and sensitive to UV exposure, resulting in hyperpigmentation, and may start to lose elasticity and volume. However, despite the challenges, there is a lot you can do to minimize its affects and keep your skin glowing. Dr. Barbara Sturm has guidance and advice for how to switch up your routine and adapt your diet for healthy-looking skin at every age.
Supercharge Your Skincare
As hormonal changes cause dryness and dehydration it's important to replace skin's depleted moisture levels with potent anti-aging and lipid-rich ingredients. Serums are the power tools of your skincare regimen. They are highly concentrated and often contain water soluble ingredients that are able to penetrate deeply to deliver active ingredients into the skin. The SUPER ANTI-AGING SERUM for example, is packed with Hyaluronic Acid as well as powerful anti-aging ingredients like Skullcap and Purslane that rejuvenate, plump and hydrate the skin at both the surface and deeper skin layers. And my new innovation, the SUPER ANTI-AGING FACE CREAM is a lipid-rich hydrating moisturizer that is full of anti-aging boosters including Teprenone, a molecule that strengthens the skin's natural barrier properties, and Plankton Biopolymers which help stimulate the production of collagen and elastin. It's the perfect moisturizer for mature skin.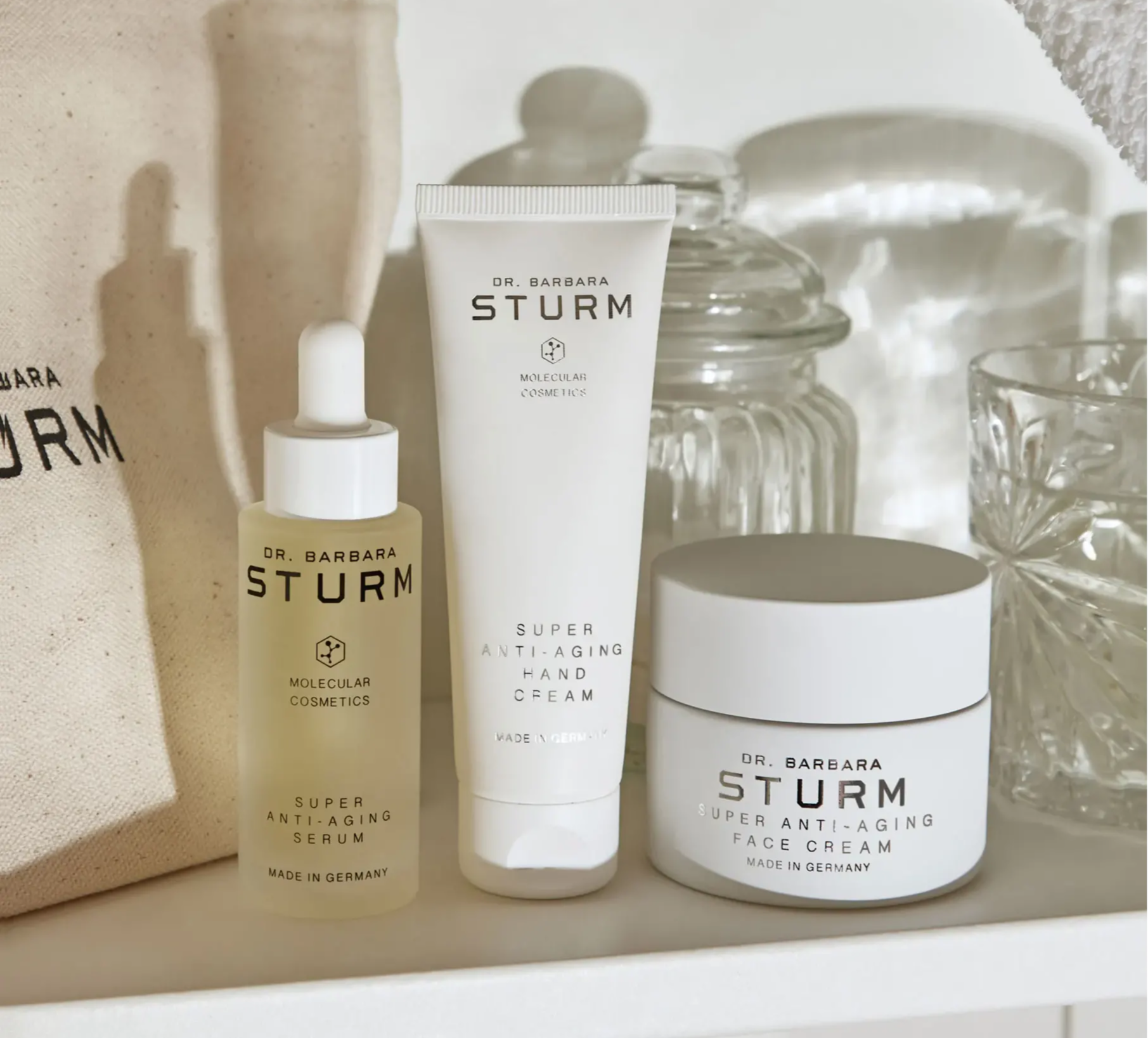 Amp Up Your Sun Protection
Hormonal changes and aging can cause menopausal skin to be thinner and more delicate, leading it more susceptible to UV damage, therefore, applying sun care that offers both UVA and UVB protection and with an SPF of 50 is increasingly important to prevent the onset of hyperpigmentation. The SUN DROPS SPF 50 are a light-textured sun serum which double up as skincare providing broad-spectrum protection against both UVA and UVB rays. An active complex of Cassia Extract, Vitamin E and Beta-Glucan protects the skin from oxidative damage, while Purslane reduces visible signs of irritation. It's also especially important to avoid aggressive treatments and ingredients such as acids and retinol; acids destroy rather than repair the skin matrix, weakening your skin's natural ability to defend itself against UV ray exposure and making it more susceptible to hyperpigmentation.
Besides protecting your skin from sun damage there are also other methods in avoiding and reducing the signs of hyperpigmentation in menopausal skin. My BRIGHTENING SERUM and BRIGHTENING FOOD are both products you can seamlessly weave into your daily routine to help even skin tone and reduce dark spots and pigmentation. The BRIGHTENING SERUM contains Cress Sprout Extract, which gradually fades dark and yellow spots while simultaneously boosting your overall radiance for a healthy glow and Ginseng Extract supports the skin's own defenses against free radicals. Pair it with BRIGHTENING FOOD, an oral supplement containing potent ingredients such as Olive Leaf Extract which may help diminish the appearance of uneven skin, and Centella Asiatica, a skin soothing and hydrating ingredient with potent antioxidant properties.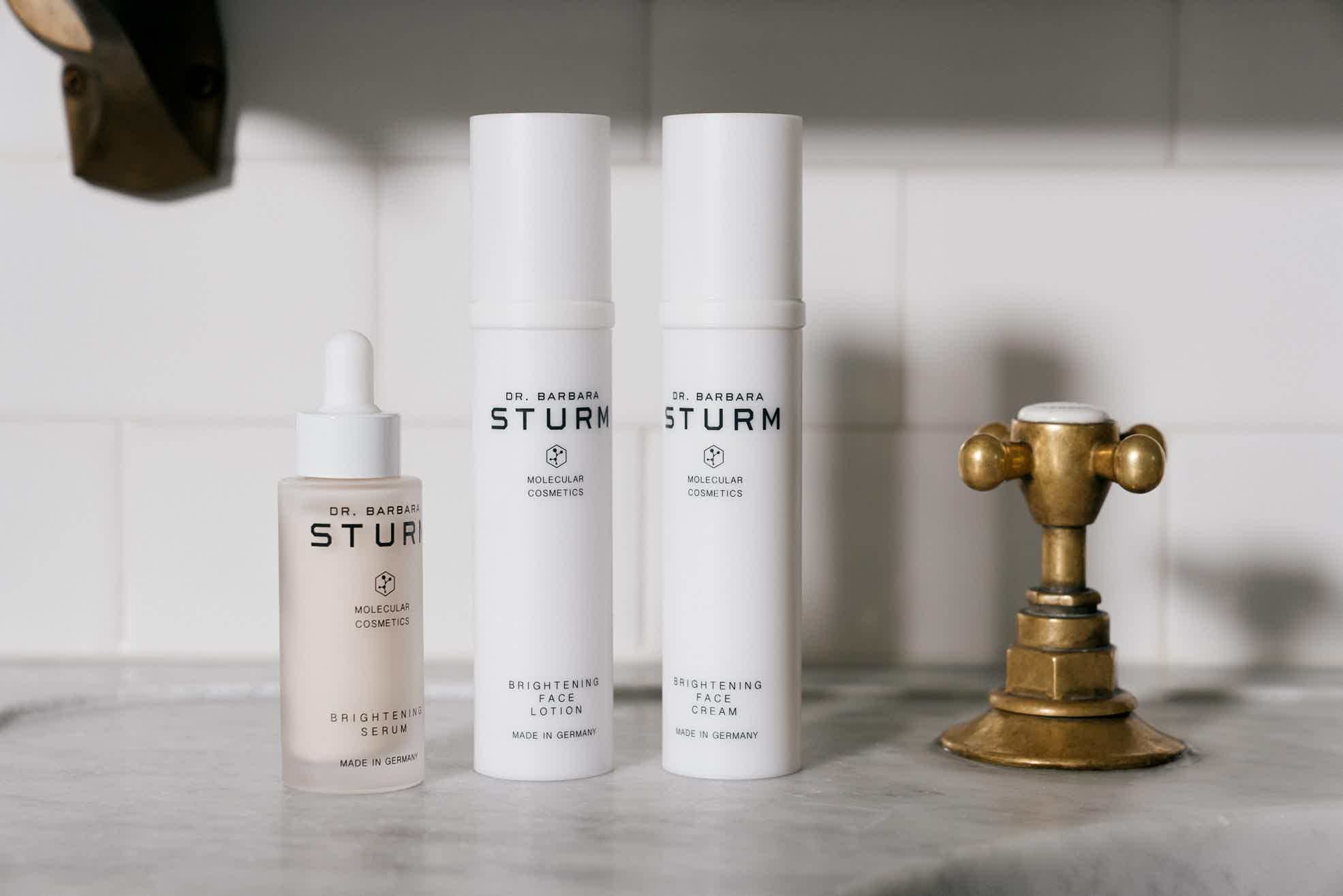 Consider Taking Supplements
Oral supplements can be a great way to give your skin a boost from the inside and are simple to add into your regimen. My skin supplements are packed with ingredient science geared towards nutritional deficiencies which help boost the body's ability to deal with hormonal changes and external aggressors. SKIN FOOD contains a blend of Purslane Extract, an anti-aging powerhouse packed with Omega-3 fatty acids and Vitamin C which may help promote skin renewal and hydration from the inside-out. It also contains Kudzu Root, which studies have shown can help reduce the hot flushes common during menopause while Glucosamine may help relieve common bodily aches and pains. And REPAIR FOOD uses a concentrated dosage of the flavonoids Boswellic and Ellagic Acids which can support the body's ability to deal with oxidative stress as well as Licorice Root and Sage, which have also been shown to be helpful for menopausal symptoms.
Adopt An Anti-Inflammatory Diet
Following an anti-inflammatory diet and lifestyle approach at any age is important for immediate and long-term effects on skin but it can also be beneficial during hormonal changes to help balance our bodies and maintain our health. During menopause, bone health and metabolism both diminish - so maintaining a diet that keeps your weight regulated and your bones strong is key. Increasing your intake of Vitamin D and Calcium as well as following a diet full of anti-inflammatory fruits and vegetables can help. And beyond diet, make sure you're getting eight hours of sleep each night and take time during the week to unwind through meditation or exercise to help decrease stress levels and allow your body and skin to regenerate.
DR. BARBARA STURM SUPER ANTI-AGING PANEL
Dr. Barbara Sturm is joined by leading wellness, beauty and lifestyle experts for an exclusive conversation around anti-aging; Digital Director of Shape Magazine, Sade Strehlke; Osteopath and Founder and CEO of Saint Supply, Vicky Vlachonis; Co-Founder and CO-CEO of Sakara Life, Whitney Tingle; celebrity facialist and Founder of The Beauty Sandwich Method®, Iván Pol; and the Founder of the wellness platform, Eat Burn Sleep, Yalda Alaoui.