Aloe Vera is a natural ingredient in many of Dr. Barbara Sturm's products due to the soothing and healing effects it has on the skin. Read on to learn what makes this unique plant so special and discover Dr. Sturm's latest innovation, the ALOE VERA GEL.
As one of the earliest recorded healing botanicals, Aloe Vera has played an important role in our history for thousands of years. It originally comes from the Arabian Peninsula and flourishes in tropical and subtropical regions like the Caribbean island Aruba, where Aloe is one of the main exports, and it has long been used in Chinese and Indian medicine as a health elixir, wound healer, and gastrointestinal treatment. The Aloe plant stores water in its juicy leaves in the form of a gel and it's this which contains most of the bioactive compounds found in the plant, including vitamins, minerals, amino acids, and antioxidants.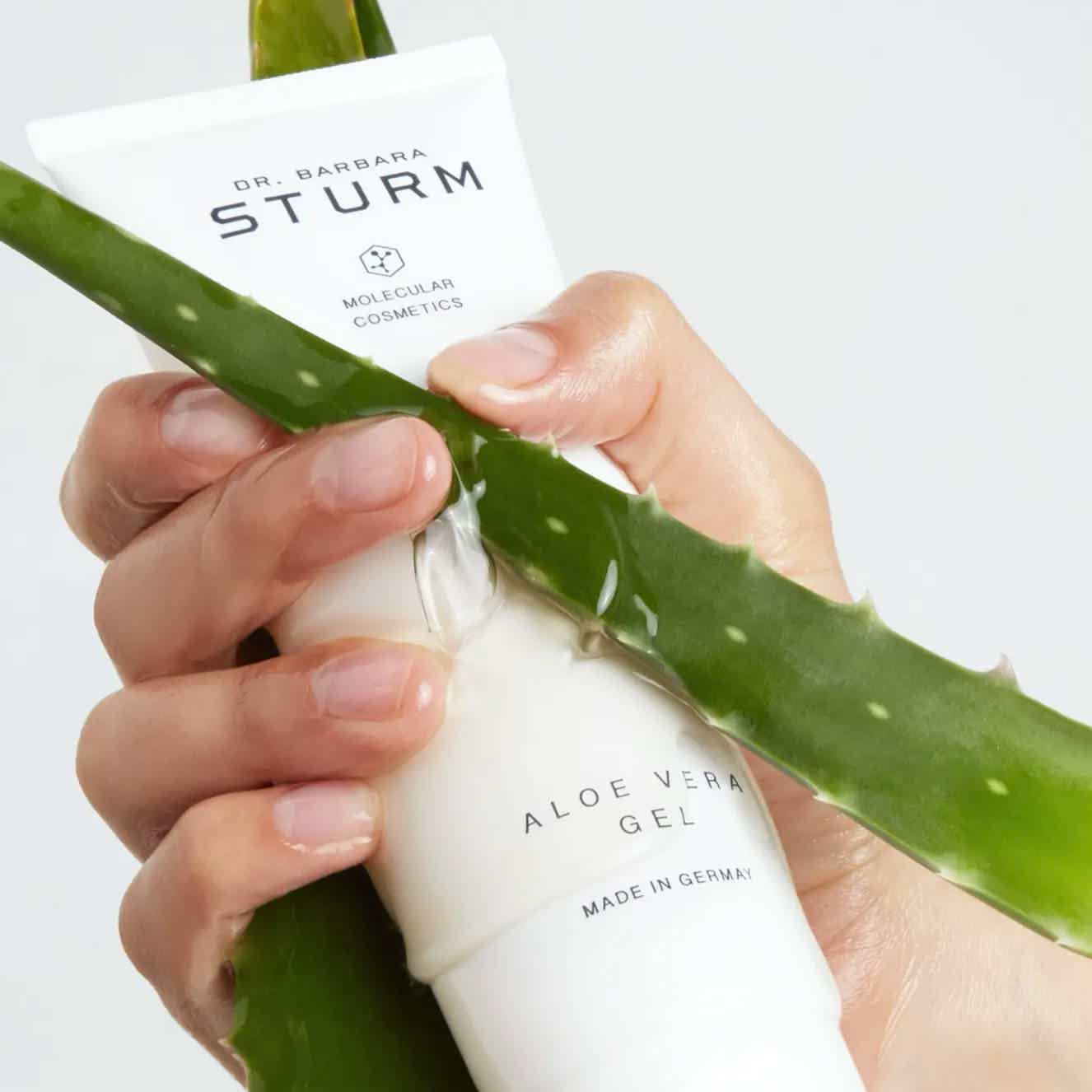 How Does it Help My Skin?
Studies have shown Aloe has anti-inflammatory, antioxidant and antibacterial properties and can be used particularly well in treating damaged skin including sunburns or scars. Its cooling effect, which occurs as it evaporates on the skin, has soothing benefits and it contains six antiseptic agents: Lupeol, Salicylic Acid, Urea Nitrogen, Cinnamonic Acid, Phenols and Sulfur, which exhibit antibacterial and astringent effects on the skin. It's why you'll often find Aloe Vera in products that target blemishes and breakouts, for which bacteria is one of the causative factors.
Aloe also stimulates the cell division of the fibroblasts, which produce collagen and elastin fibers, increasing skin elasticity and decreasing wrinkles. Aloe has been shown to speed up wound healing by improving blood circulation through the area and preventing cell death around skin damage and can increase the synthesis of Hyaluronic Acid - so it's ideal if you tend to suffer from dryness and dehydration. It's also packed with antioxidants, vitamins and fatty acids that have hydrating, protecting, and nourishing effects.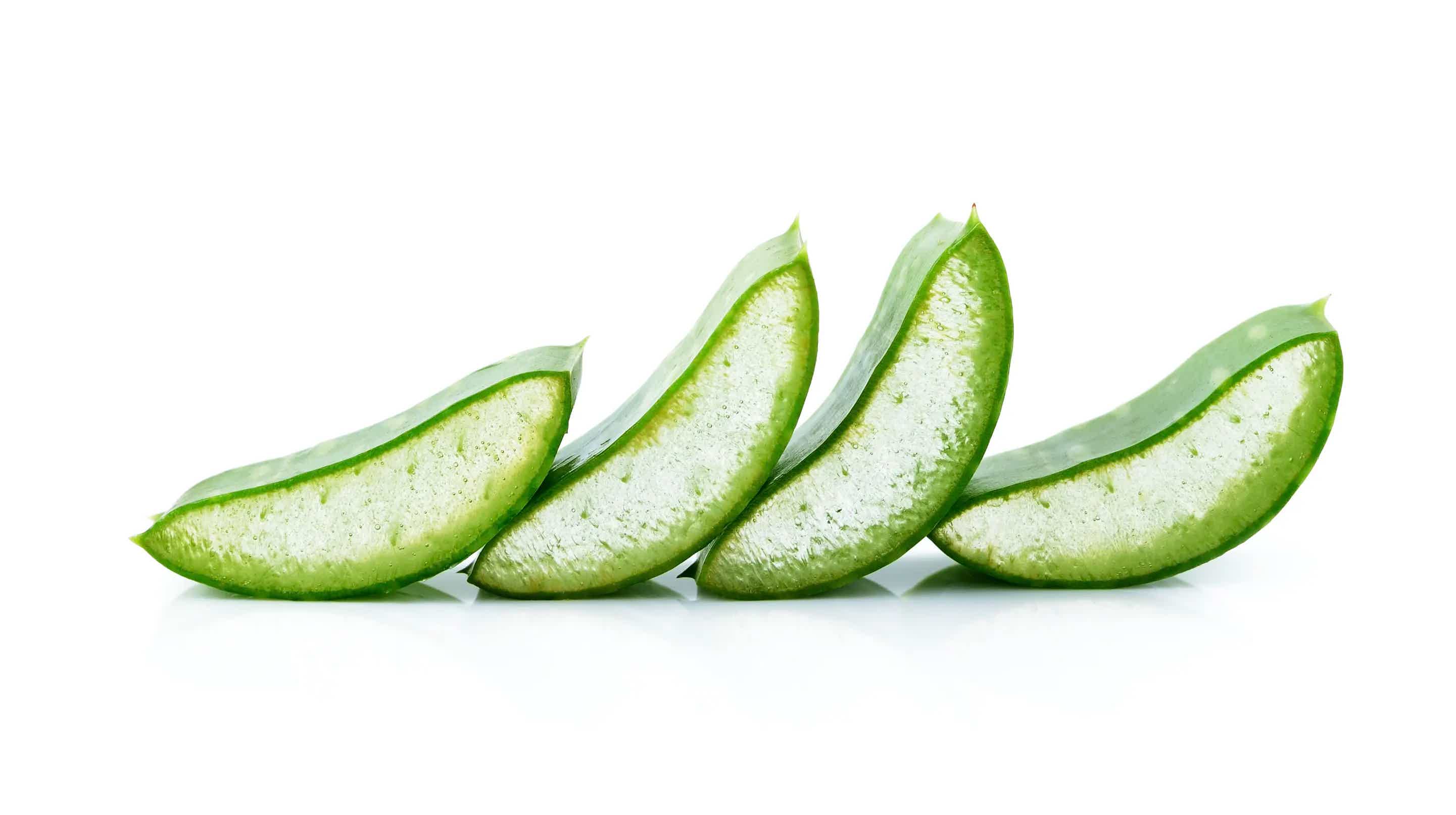 How Should I Use Aloe to Derive its Full Benefits?
For hydrating and anti-bacterial effects, Aloe is best blended with other beneficial ingredients like in Dr. Barbara Sturm's latest innovation, ALOE VERA GEL. It consists of 90% pure organic Aloe leaf juice and is formulated using the freshest, hand selected and harvested Aloe Vera leaves to help support skin regeneration, reduce the appearance of irritation, and soothe the skin. Dr. Sturm's formulation also contains Purslane, an anti-aging powerhouse which helps to defend the skin from attack by free radicals and reduces irritation, as well as Panthenol (Vitamin B5), which has additional skin soothing benefits. The refreshing ALOE VERA GEL is suitable for daily use on the face and body and is also recommended for use after sunbathing, waxing or epilation to calm and cool the skin.
DR. BARBARA STURM'S DIY FACE MASK FEATURING ALOE VERA
Is Drinking Aloe Vera Juice Good For Me?
Aloe Vera juice, which is a popular choice of beverage at many health food cafes and natural food stores, has been proven to have many potential benefits, including reducing gum inflammation, controlling blood sugar levels, increasing intestinal water content, and providing Vitamin C, a natural antioxidant that helps fight inflammation. You can make your own Aloe Vera juice simply by adding the contents of one Aloe Vera leaf to half a gallon of water and mixing in a blender. Add lots of crushed ice and enjoy as part of an anti-inflammatory lifestyle.
"As a child, my mother kept an indoor aloe plant in the kitchen, and we would apply the raw pulp directly to minor cuts and burns. It was wonderfully healing. My deeply hydrating and soothing ALOE VERA GEL is perfect when traveling, after sun and wind exposure, or whenever your skin needs a moisture boost. It also contains Purslane, an anti-aging powerhouse which helps to calm the skin and reduce the visible signs of irritation."
- Dr. Barbara Sturm