To support the launch of Dr. Barbara Sturm's MOLECULAR HAIR & SCALP COLLECTION we sat down with certified trichologist and founder of the Root Cause Scalp Analysis, Bridgette Hill to discuss how to properly care for this often overlooked part of our skin: the scalp. Bridgette trained and was certified as a trichologist with David Kingsley, founder of the World Trichology Society in 2016 and has had a long career in hair and beauty as a top colorist and editorial stylist. She takes a coequal approach to the hair and scalp as Dr. Sturm does to the skin - aiming to deliver visible and long term results not only from the outside but from the inside-out too. Read on for our conversation.
Can you tell us a bit about yourself and your background as a trichologist?
For over 20 years, I have been an integral force in the beauty industry, evolving from a top editorial stylist and colorist to my true calling as a bespoke trichologist and thought leader in scalp and hair health.
I was ayurvedic trained and certified as a trichologist at the renowned World Trichology Society. My colorist career has spanned across prominent salons, such as Garren, Oscar Blandi, and Paul Labrecque, and I served as the creative director for The Four Seasons in Palm Beach. I have been recognized as one of New York City's top colorists and featured in top publications such as Allure, InStyle,Vogue and GQ, about scalp health, high-porosity hair, shampooing, hair treatments, and more.
Affectionately known as "The Scalp Therapist," in April 2021, I founded the Root Cause Scalp Analysis, a digital platform that allows me to offer personalized, virtual scalp analysis consultations, treatments, and guidance to build a comprehensive understanding of all underlying factors and disruptors that may cause scalp and hair concerns. My customized solutions marry the latest combination of topical products, ingestibles, and technology to improve and guarantee the healthiest scalp and hair.
What are the principles behind trichology?
Trichology is the para-medical science of the hair, hair loss and associated scalp problems. It encompasses the study of the diseases of the human hair and scalp, as well as the assessment of the causes and addresses these disorders and is perceived as the "bridge between cosmetology and dermatology."
What's the most common concern that you see with your patients?
I have been seeing an increase in inflammatory alopecias, like Central Centrical Cicatricial Alopecia (CCCA); forms of Lichen Planopilaris (LPP) and unbalanced scalps that result in inflammation or disturbances to the microbiome. Disturbances to the microbiome can lead to dryness, inflammation, infections, and hair loss. That's one of the reasons why I was so interested to hear about Dr. Sturm;s new range as I know her philosophy is anchored around and inspired by her extensive research and work with anti-inflammatory medicine.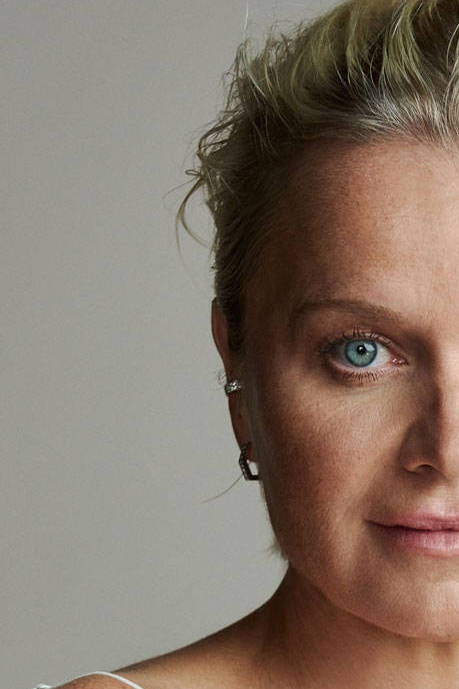 How does the scalp play a part in overall hair health?
Scalp health is the tissue and cell component of hair health. The scalp is the organ that supports the hair fiber through the hair follicles that are located on the scalp. Our hair formation and growth begin below the skin and by the time the hair protrudes from the hair follicle it has already been formed. There is a huge disconnect between hair care and scalp health. Your scalp is the root connection between internal health and external beauty.
All follicular activity (hair creation, known as protein synthesis) and healthy hair growth requires the involvement of the scalp and its structures. In order to achieve a healthy head of hair, it is mandatory that the hair follicles are kept clean, clear, and well-maintained, meaning they aren't weighed down by sebum, products or obstructed by things like dead skin, dandruff, or inflammation. The formation of the hair is created by layers of cells that work together to create our hair fibers and are fueled by our genetics, nutrition, minerals and proteins that regulate our follicular cycle. The health of our hair follicles determines the quality of the keratin protein that protrudes from the scalp to create what we call our hair. Genetics play the largest role in hair fiber characteristics: rate of growth, length, density and structure. The quality of the hair follicle is dependent upon the quality of the tissue, cells, and blood that fuel the follicle which makes our hair fiber.
If there are deficiencies in vitamins, minerals, nutrients, declining health, intake of toxic medications, or high cortisol levels due to our stressful lives, the hair follicle may be negatively affected and compromise hair growth. If there is an over production or under protection in certain hormones, the hair follicle will affect protein synthesis (how hair strands are formed) leading to hair shedding, thinning, and a problematic scalp.
What's the best piece of advice that you could give people for a healthy hair and scalp?
You can support a healthy scalp through everyday habits such as using gentle hair care products that do not contain sulfates or alcohol. Sulfates can strip away natural oils in your hair while alcohol can remove moisture, which can lead to a dry scalp and furthermore, irritation and inflammation. If you usually wash your hair every day, try to wash it less often. When you do wash your hair, shampoo gently and take the time to give yourself a scalp massage. Just 3 – 5 minutes of scalp massage helps activate the scalp muscles, improves circulation, softens and exfoliates skin cells and removes congestion-causing build-up.
A diet rich in green, leafy vegetables and fruits containing antioxidants provides the nutrients to help support a healthy scalp and taking a fish oil supplement and probiotic may also be beneficial. If you are experiencing any excessive itching, redness, irritation, pain, flakiness or excessive hair loss, there may be an underlying health concern and seeking help from your medical practitioner, dermatologist and/or trichologist is highly recommended.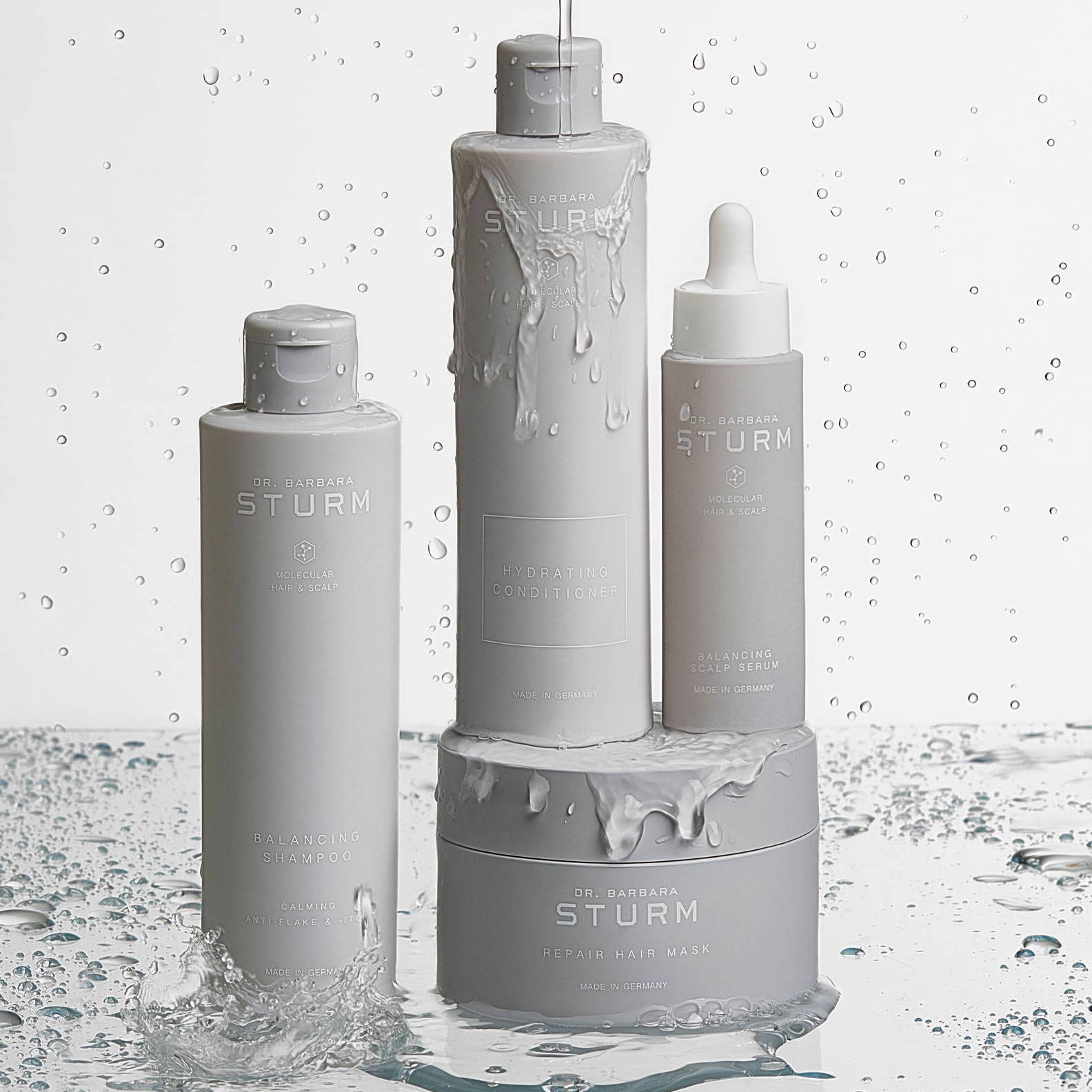 How do you minimize dandruff and relieve flakiness?
There are many scientific unknowns, but there are ingredients and therapies that are research-backed that are leading the way. Most scalp conditions can be successfully managed. The first step is to know that when we see flakes, we should be striving to slow down the cellular level, not speed it up. There is a delicate balance in not exacerbating the issue and overstimulating the rapid skin cells that produce the flakes. I encourage you to incorporate the Dr. Sturm SCALP SERUM in your hair care regimen twice a week (on uncleansed hair at night) as a pre-shampoo treatment to boost hydration and calm the skin. In the morning, shampoo with Dr. Sturm's BALANCING SHAMPOO, followed by the BALANCING SCALP SERUM.
How do you maintain hair texture with age?
The impact of aging and chemical treatments affects the tissues and cells required for protein synthesis, the building of hair fiber and the structures and functions of the scalp that support our hair follicles and hair fibers. However, you can help restore and retain proper vitamins and nourishment to the scalp and hair fiber by incorporating Dr. Sturm's SUPER ANTI-AGING COLLECTION into your self-care routine. Their science-backed botanicals help repair chemically treated hair while providing protection from UV stress. I would also suggest a weekly deep treatment with the REPAIR HAIR MASK until the proper hydration levels have been achieved - then reduce use to twice a month or more regularly depending on hair type and texture. Properly hydrated hair will allow light to reflect which creates sought-after shiny and healthier-looking hair.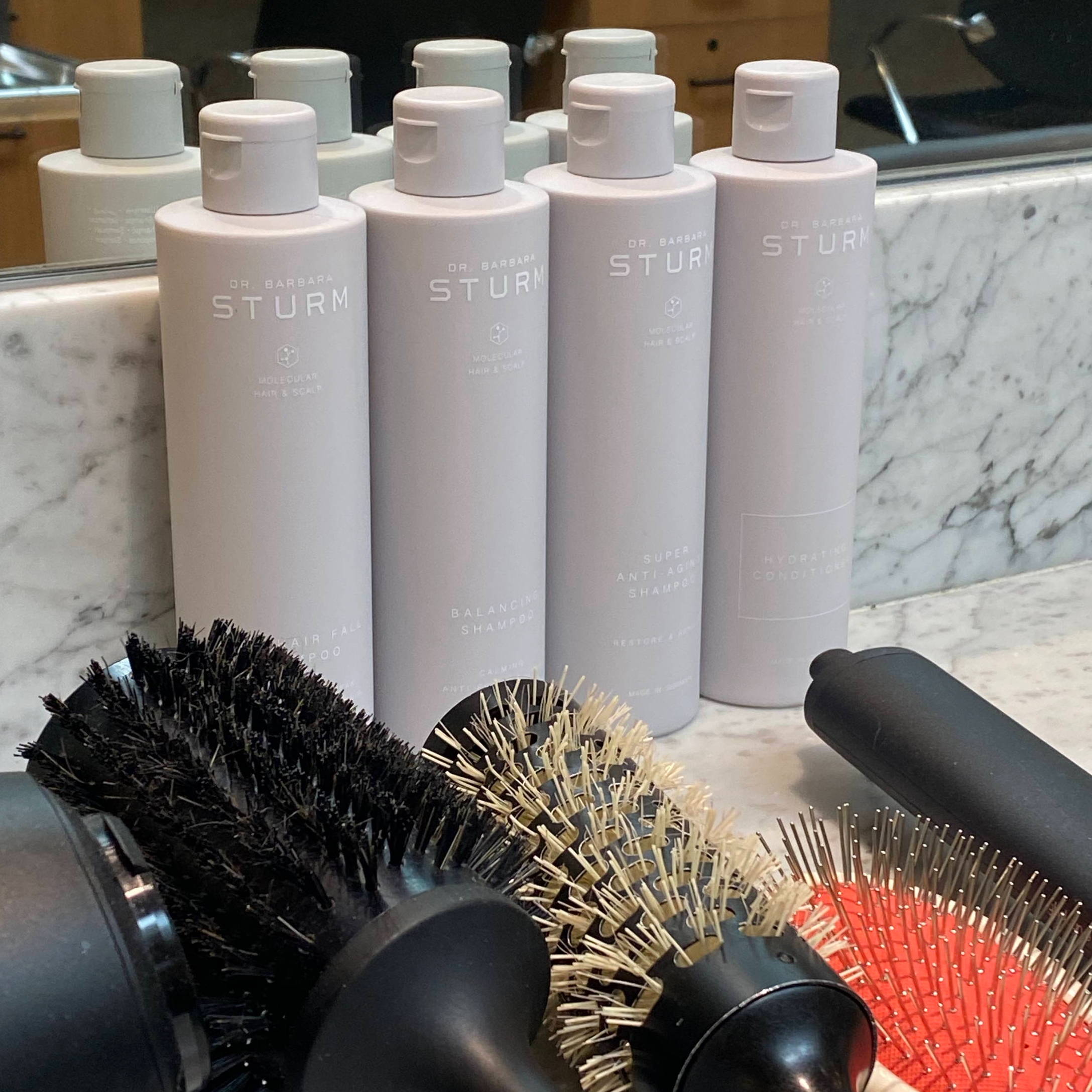 How do you address hair loss after pregnancy?
As a woman's body drastically shifts from supporting and caring for two, we are all aware of the extreme chemical and biological shifts that are taking place to prepare for feeding and healing. In some women, these extreme shifts can lead to temporary hair loss, Telogen Effluvium, which can be triggered by hormonal changes and a drastic decline of estrogen levels four to six months after pregnancy. There are many theories on what triggers postpartum shedding - what we do know is that there are hormonal and/or nutritional shifts that disrupt the hair cycles. Regardless of hair type and texture, the two most important aspects of postpartum hair loss are controlling the shedding and properly caring for the new hairs that are growing back in.
Dr. Sturm's ANTI-HAIR FALL COLLECTION helps nurture the hair follicle to encourage the resetting of the hair growth cycles and reinforce the strength of the hair fiber. For additional support to maintain elasticity and hydration for the new hair, condition with the HYDRATING CONDITIONER as frequently as needed depending on your specific hair type and texture.
The full MOLECULAR HAIR & SCALP COLLECTION is trichologist-approved by Bridgette Hill.