Dr. Barbara Sturm's Boutiques & Spas are in some of the most exciting neighborhoods around the world. From the Design District in Miami to Mayfair in London, we encourage you to explore everything there is to do before or after visiting us - whether it's for a facial or simply to learn more about Dr. Sturm's products and philosophy. Read on for our guide to stores, restaurants, and must-see sights around each Dr. Barbara Sturm Boutique & Spa location.
---
MIAMI



DR. BARBARA STURM BOUTIQUE & SPA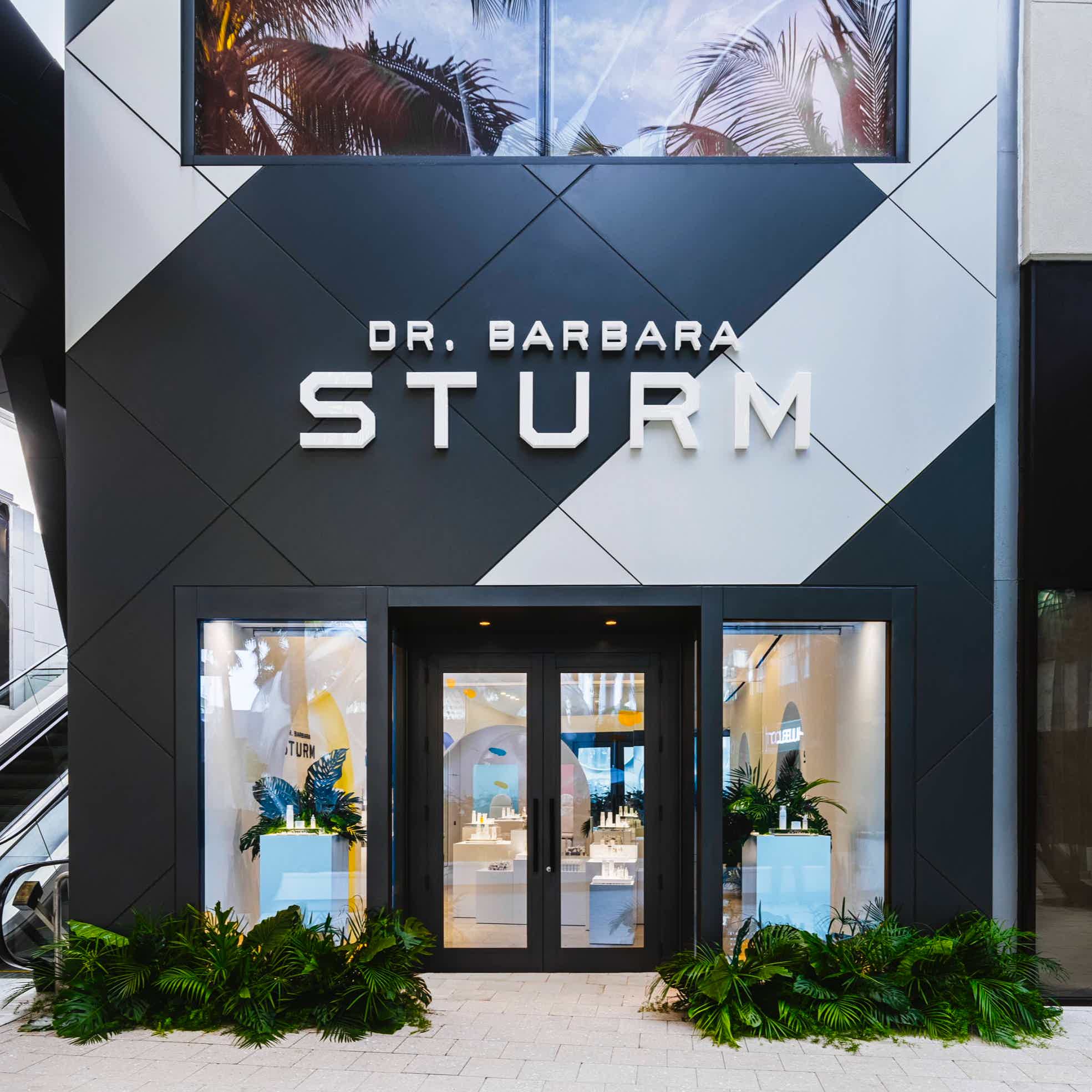 MIAMI DESIGN DISTRICT
140 NE 39TH ST, SUITE 111 MIAMI,
FL 33137
---
Pura Vida
3818 NE 1St Ave.
A shabby-chic location that's homey and family owned, Pura Vida is perfect for a quick and healthy meal. They are vegetarian-friendly, sustainability conscious, and serve breakfast all day, including fresh juices, lattes, and pastries.
Dior Café
162 NE 39th St.
An elegant coffee stop with Instagram-worthy designs and fantastic people watching. Located on Dior's third-floor outdoor terrace, the café offers seated table service with coffee, teas, juices and assorted fruits and pastries.
MIA Market
140 NE 39th St.
A casual, elevated food hall located right next to Dr. Sturm's Boutique & Spa, MIA houses a full bar and various vendors including delicious Italian, Japanese, and vegetarian options.
---
Jonathan Adler



4040 NE 2nd Ave
Beautiful mod-inspired contemporary furniture and homeware accessories that are bursting with color. Find unique pieces to take home or simply enjoy browsing around.
MRKT
3824 NE 2nd Ave
A modern, multi-brand menswear concept shop featuring streetwear designers, Raf Simons, Vetements and more in a stark, minimalist setting.
TKEES
172 NE 40th
Minimalistic footwear and apparel perfect for lounging beachside with a fully shoppable concept including a selection of homeware and furniture inspired by the surrounding art-deco Design District.
---
The Institute of Contemporary Art
61 NE 41st St
A sleek museum with everchanging paintings, sculpture and multi-media installations showcased in an ultramodern setting. The perfect place to take in some art before your Sturm facial.
De la Cruz Collection
23 NE 41st Street
The de la Cruz Collection is a private, contemporary art collection owned by Carlos de la Cruz and his wife Rosa. Admission is free and the gallery supports the local community through year-round public programming.
Wynwood Walls



266 NW 26th St
The Wynwood Walls is a collection of over 35 murals and sculptures by world-renowned artists that span for blocks along Wynwood. It's the perfect photo op and the best way to see art while getting some fresh air.
---
Los Angeles



DR. BARBARA STURM BOUTIQUE & SPA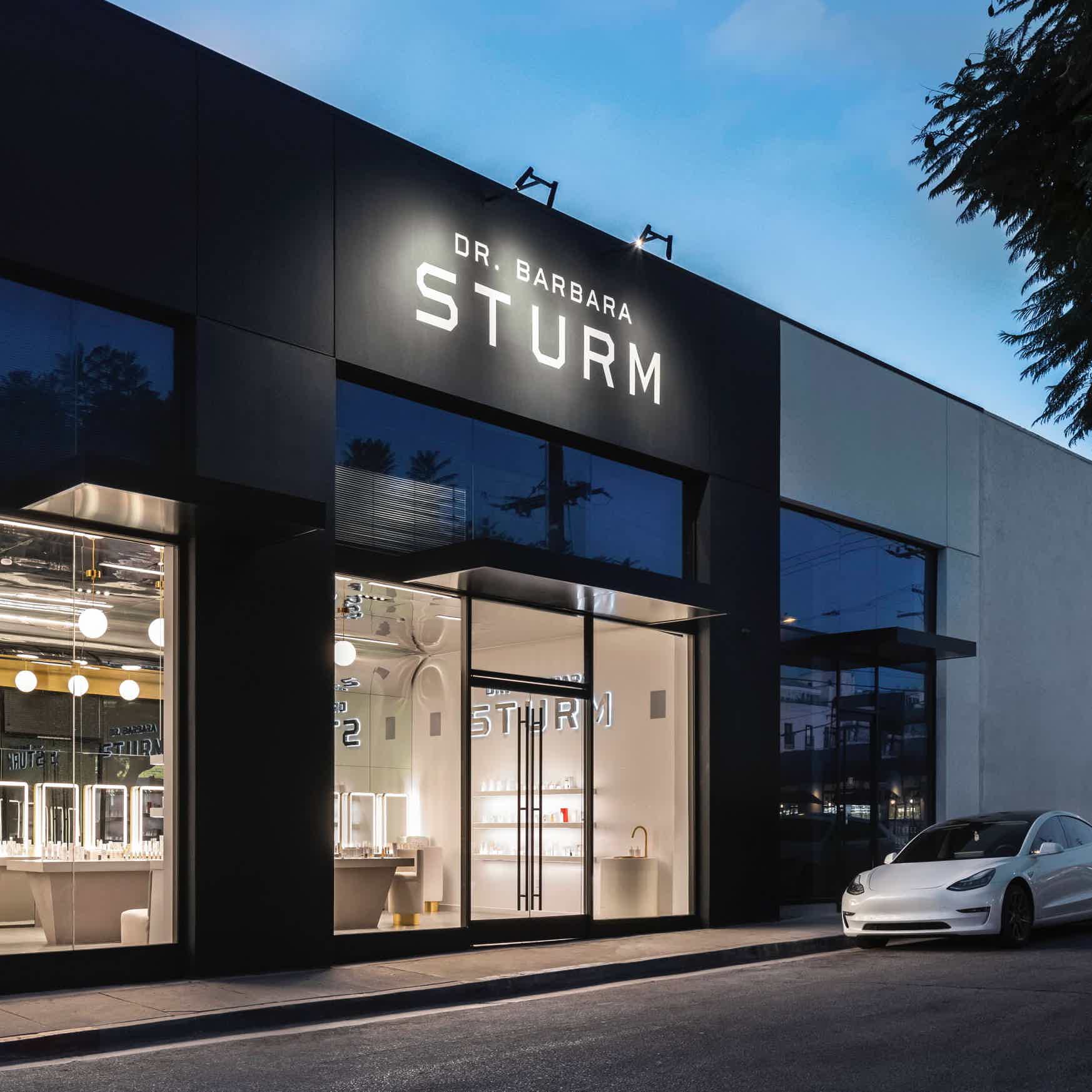 515 N. ALMONT DRIVE,
WEST HOLLYWOOD
CA 90069
---
Polo Lounge at The Beverly Hills Hotel
9641 Sunset Blvd
This is an LA classic serving Californian cuisine in a chic outdoor patio with a lush pink and green color scheme. A beautiful photo op (it's known for its celebrity sightings) as well as a delicious lunch spot!
GO GREEK YOGURT



452 N Bedford Dr
A relaxed yogurt spot serving Greek frozen yogurt in a variety of flavors including classics like vanilla and honey and more unique flavors like carrot and rose. The blue and white tiled interior transports you to Greece.
Kreation Organic Juicery
9465 Charleville Blvd
A healthy and quick stop for bowls, salads, soups and organic cold pressed juices. Known for their detox juice programs, every juice is made fresh and bottled on the day and makes for an easy, on-the-go energy boost.
---
Acne Studios
8920 Melrose Ave
A unique and upscale Stockholm-based fashion house with colorful garments inspired by photography, art, architecture, and contemporary culture.
Byredo



8920 Melrose Ave
Dr. Barbara Sturm's go-to destination for all things fragrance. The sleek designs of each perfume bottle, candle or room spray make wonderful gifts and the store is beautifully minimal and aesthetic.
James Perse



357 N Canon Dr
Cozy and chic basics including t-shirts, sweatpants and sweatshirts that are perfect for lounging, travel or getting a Sturm facial in!
---
Melrose Ave.
The iconic street is perfect for a stroll, and you are sure to get in some great window shopping and people watching.
---
London



DR. BARBARA STURM BOUTIQUE & SPA
125 MOUNT STREET
LONDON
W1K 3NS
---
Scott's
20 Mount St

Originally opened as an oyster warehouse in 1851, Scott's is a chic seafood restaurant serving a wide selection of market fresh fish, seafood, and caviar in a classic and upscale setting.
Kai Mayfair
65 S Audley St.
This sophisticated spot serves modern takes on Chinese classics in an elegant dining room adorned with elaborate flower arrangements and delicious cocktails.
Harry's Bar

26 S Audley St.

Italian owned and inspired interiors make for a sophisticated lunch or dinner stop. From the Venetian chandeliers to the Murano glassware, there's an atmosphere of relaxed luxury along with delicious food.
---
Jessica McCormack
7 Carlos Pl.

Aside from the beautiful jewelry pieces, the five-story house on Carlos Place contains a revolving collection of contemporary art, a library and beautiful and unusual found objects and family photos.
Celine
103 Mount St.

The high-end French brand offers a sophisticated collection of women's apparel, shoes, and leather goods -- you are guaranteed to find an accessory or piece of clothing to last you a lifetime.
Christian Louboutin
17 Mount St.

Known for their iconic red soled shoes this is the perfect shop to stop into, to either play dress up or to find that perfect pair of shoes to go with a certain outfit.
---
Hyde Park
The iconic (and huge!) park is just a short walk away from Dr. Sturm's Boutique & Spa and is home to the Diana Memorial Fountain as well as boating in the Serpentine Lake.
The British Museum
Great Russell St.

A must-see if you are visiting London. Its permanent collection of nearly eight million works is among the largest and most comprehensive in existence, having been widely collected during the era of the British Empire.
Buckingham Palace & Gardens
Constitution Hill., Spur Rd.

The Garden at Buckingham Palace is a large private park whose features include the 156-metre Herbaceous Border, the Horse Chestnut Avenue and the Plane trees planted by Queen Victoria and Prince Albert.
---
DÜSSELDORF
DR. BARBARA STURM BOUTIQUE & SPA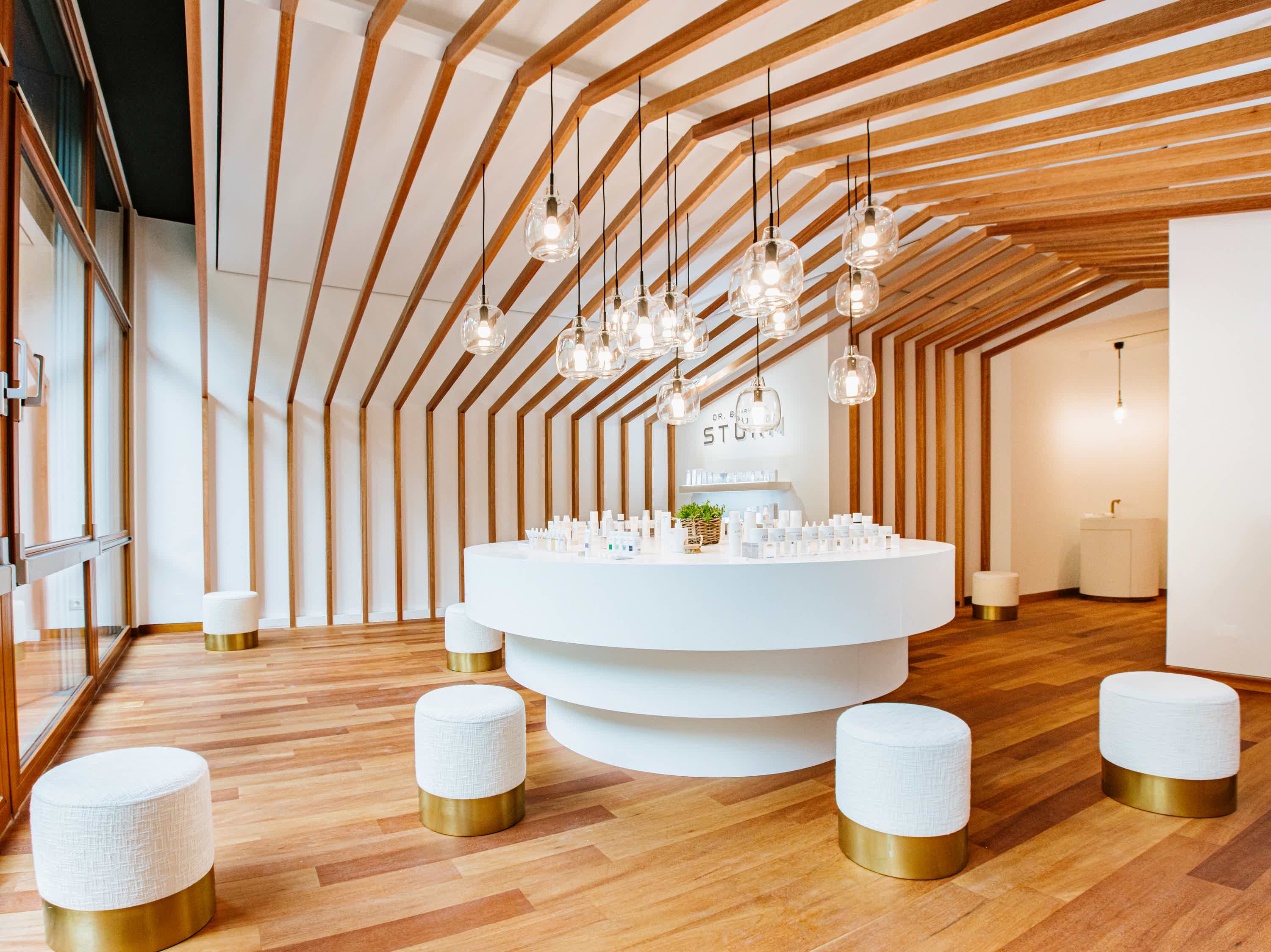 KÖNIGSALLEE 24
40212 DÜSSELDORF
GERMANY
---
Bazaar Caffè
Heinrich-Heine-Allee 53
A cozy cafe with a wonderful selection of coffees, teas, and pastries. The perfect place to sit and unwind before or after a Sturm facial.
Laura's Deli



Carlspl. 1
A modern yet cozy health food spot with take-away or dine in options in a Instagram worthy setting with gold hardware and pastel green interiors.
Yoshi by Nagaya
Kreuzstraße 17
This classic Japanese restaurant is set in a minimal and stylish dining room with a large selection of sakes and open for lunch.
---
Apropos
Benrather Str. 15

A modern luxury concept store with a selection of niche products from international designer brands including Celine, Bottega Veneta, Alexander McQueen, Gucci and Moncler.
Jades



Breite Str. 1

A multi-brand clothing store with a selection of smaller designers to bigger brands for women and a men's store right next door.
---
Altstadt

Düsseldorf's old town is made up of small, picturesque streets filled with cocktail bars, cute cafes, pubs and shopping. Walking around is a great way to spend a couple of hours and there is plenty to explore.
Kunstsammlung, K21
Ständehausstraße 1
A comprehensive exhibition of Ai Weiwei featuring works by Ei Arakawa, Wolfgang Tillmans, Lutz Bacher, Margarete Jakschik, Jef Geys, Marcel Broodthaers, Ed Atkins, and Cao Fei.
Rheinturm
Stromstraße 20
This 172 metre tower by the river provides an all round City panorama which is stunning both day and night. There's also a small café and souvenir shop for you to pick up gifts for loved ones at home.
---
---