On Monday, 22nd December, 2020, Dr. Barbara Sturm and the supermodel and advocate, Ashley Graham, came together to co-host a special, holiday edition of 'Skin School,' Dr. Sturm's educational online series created to help both teenagers and young adults learn how to take care of their skin. Streamed on Dr. Barbara Sturm's YouTube channel, the intimate conversation included discussions around self-esteem, Dr. Sturm's 'less is more' approach to skincare and her anti-inflammatory philosophy, and the skincare ingredients and treatments to avoid for healthy, radiant-looking skin. Here are our top 10 takeaways from the inspiring session:
---
1. Confidence is all about learning to be yourself
"People have always asked me, "how do you gain confidence?" – it's one of the number one questions that I get asked," said Graham. "I think that for me, it's just about being myself. If more people tapped into figuring out who they are, and being themselves, it would make for a much more confident generation."
2. Always wash your skin before bed
Ashley explained how, when she started out as a model, she didn't consider skin preparation. "I never thought about [skin] prep before a job until I started getting that one random zit that I couldn't help but pop and when I popped it, it turned into a scab and I was like "what am I doing?" and "this is going to ruin this campaign that I'm shooting," so I started making sure that no matter what… I was going to wash my face before I went to bed."
SKIN SCHOOL: ASHLEY GRAHAM ON USING VITAMIN C IN SKINCARE
3. Consider the concentration of Vitamin C
Dr. Barbara Sturm explained that most Vitamin C serums have a very high concentration of Vitamin C that can cause irritation and skin sensitivity, which is why it's essential you know which dosage you are using. "The problem is that [a high concentration] disrupts skin barrier. Vitamin C is so good up to a percentage of 5% and this is clinically shown in studies," said Dr. Sturm.
4. Less is more when it comes to skincare
"There's a lot of 'trying out' happening with young skin and it's too much; kids get sensitivity early, can get Perioral Dermatitis and they're suffering a lot from the over use of products," Dr. Sturm explained to Ashley. She went on to add that sometimes, it's better to go for less rather than more with your skincare regimen and not overdo it. "You don't need a ten-step skincare routine."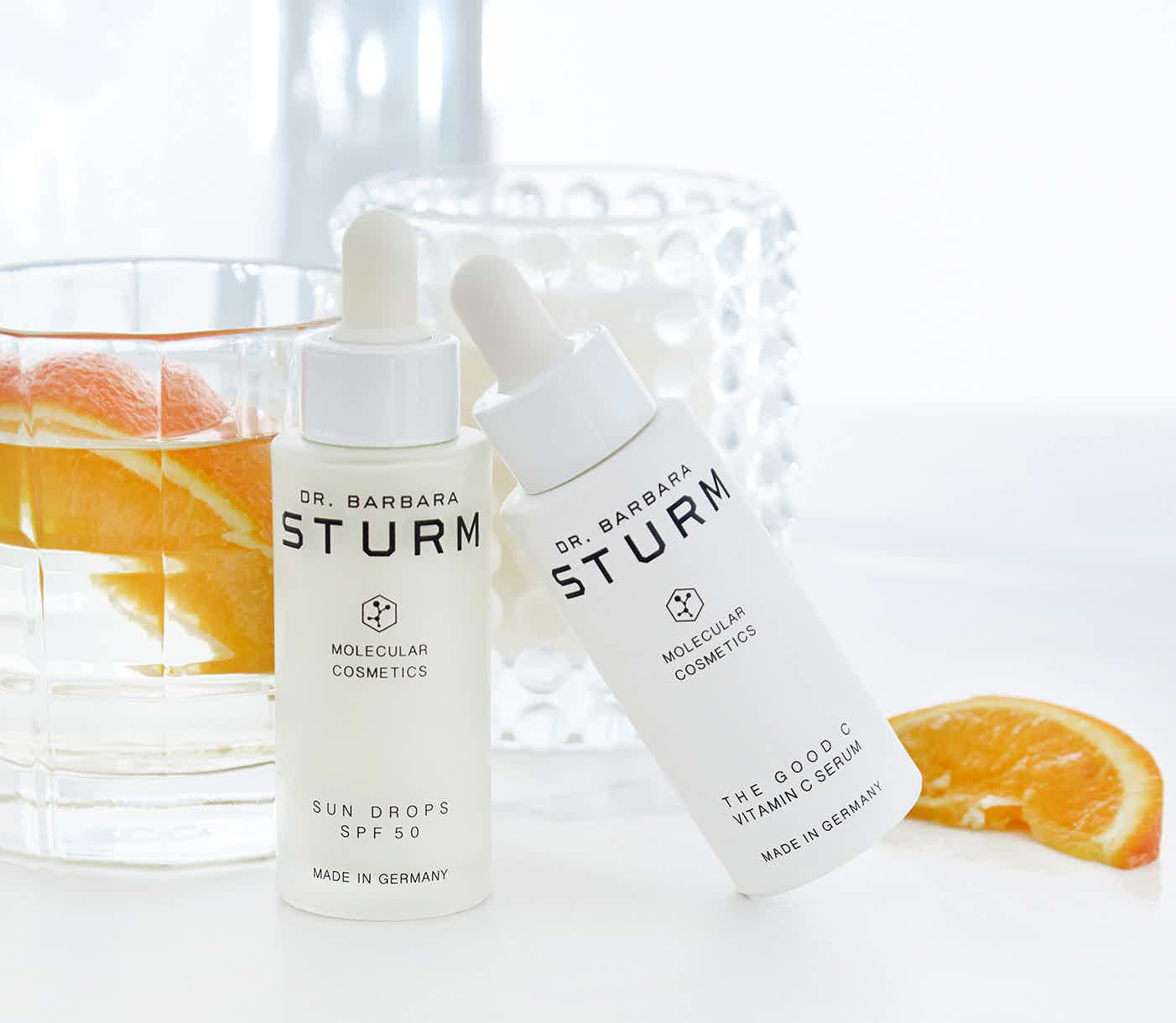 SUN DROPS SPF 50 & THE GOOD C VITAMIN C SERUM
5. Over-exfoliating can damage healthy skin
Dr. Sturm explained that retinol, acid peels, glycolic or any harsh ingredients can over-exfoliate your skin and not only takes off dead skin cells but also our healthy skin cells. "The advantage or the anti-aging effect would be that if you take off skin layers you probably also help with pigmentation and fine lines," she explained. "But what you do at the same time is you make your skin super vulnerable."
SKIN SCHOOL WITH ASHLEY GRAHAM - "SKINCARE PRODUCTS SHOULDN'T HURT"
6. Skincare products shouldn't hurt
Ashley confided in Dr. Sturm that her philosophy is 'if it burns, it's working.' Dr. Sturm explained that it is a common perception to assume a product must be working when it burns. However, it's often the opposite. "Burn and pain is a signal from our bodies to say 'stop, don't do that!' If something burns on your skin, you should always wash it off immediately."
7. Face massages should always be gentle
Ashley asked Dr. Sturm on her thoughts regarding facial tools that are currently so popular. "A massage is always nice for your skin and it also works to stimulate skin cells to produce collagen," said Dr. Sturm. "However, it shouldn't hurt. Our skin is fragile; we have muscles, tendons, bone structure and subcutaneous fat tissues that are all woven within each other. If we are too rough, we can hurt and destroy these structures within the skin."
8. Always read your skincare labels
Dr. Sturm and Graham discussed how more and more consumers are interested in the science, efficacy and ingredients of the skincare they use. "I think it's important that more of the products that we know and love should be showing us truly what's in them," said Ashley. "There's not one thing in the grocery store where I don't look at the label, so why shouldn't I look at the labels on what I'm putting on my skin?"
SKIN SCHOOL WITH ASHLEY GRAHAM - "ALWAYS READ YOUR SKINCARE LABELS"
9. A good toner should balance skin's pH
"I personally never really used a toner before but I started because of wearing facial masks," said Dr. Sturm. "Our BALANCING TONER is amazing because it's hydrating and rich in Vitamin E, Panthenol and Beta-Glucan which help balance the skin's pH and keep the skin's microbiome very stable. That's why I keep using it." Dr. Sturm added that many toners including resurfacing formulations can be too aggressive for the skin. "When you see that your cheeks are red and it burns and tingles – that's not a good toner."
10. Don't be your own skin doctor
Dr. Sturm advises against using any harsh ingredients in your skincare and more specifically, advises against being tempted to try aggressive treatments at home. "If you do want to do something more aggressive to your skin, go to a doctor and talk to them about why you want to do it first," she explained. "They will advise you and [explain] every side effect so that you're knowledgeable about what it is you want to do."
---
WATCH THE FULL SKIN SCHOOL WITH DR. BARBARA STURM AND ASHLEY GRAHAM