Caroline Somers has worked in the health and wellness field for over 30 years. As president of Suzanne Somers' health and wellness company, Caroline has helped create and market Suzanne's products, recipes, education and services to encourage people to live a healthy, organic lifestyle. Caroline and her husband Bruce Somers (Suzanne's son) have a food and travel blog, where they share recipes and travel tips and their Instagram Stories have become a quarantine favorite for those who want some light-hearted humour and amazing home-cooking inspiration. Caroline's highly anticipated digital cookbook will be released in Spring 2021.
---
When do you usually wake up in the morning? Can you tell us a little about your routine?
I wake up between 7-8 am and I have to say my mornings are glorious! As an empty nester (my daughters Camelia, 25 and Violet, 22 no longer live with us), I love my uninterrupted sleep and know it's the most important part of my health and beauty routine. First step, I take my natural thyroid and glutathione (for detoxification) on an empty stomach and then my husband, Bruce, brings me two glasses of fresh celery juice in bed. Twenty minutes later, he magically appears with my organic French-pressed coffee (we love Urth Café Manhattan Mud). It starts my day with tremendous gratitude.
Do you eat breakfast? If so, what is your go-to?
I am not a breakfast eater. I guess unknowingly I have always been into intermittent fasting – also known as I don't get hungry in the morning!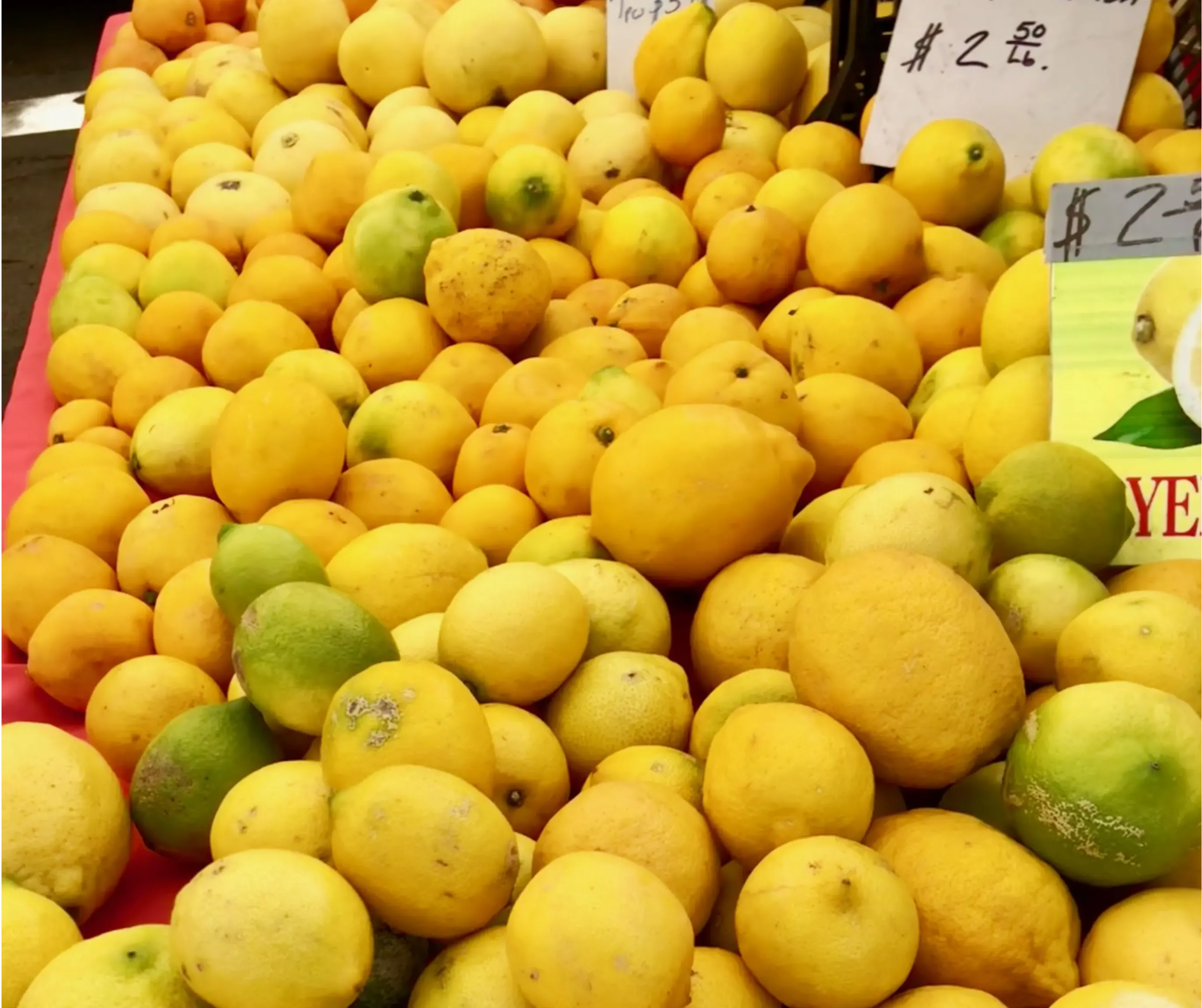 What is your recipe for a healthy lunch?
My favorite lunch is a grilled cheese sandwich, but that only happens a few times a year! Day-to-day I follow the GUT RENEW 30-Day Challenge which is Suzanne Somers' program. We created it because of the epidemic of people with gut issues, starting with our own family. It includes a smoothie for breakfast and lunch, (which I usually make with organic coconut milk and frozen wild blueberries) plus as many vegetables as you want, and then a clean dinner of organic protein, vegetables and a small amount of complex carbs like sweet potato or squash. For the 30 days, you give up gluten, dairy, grains, alcohol and sugar. It's the ultimate anti-inflammatory program!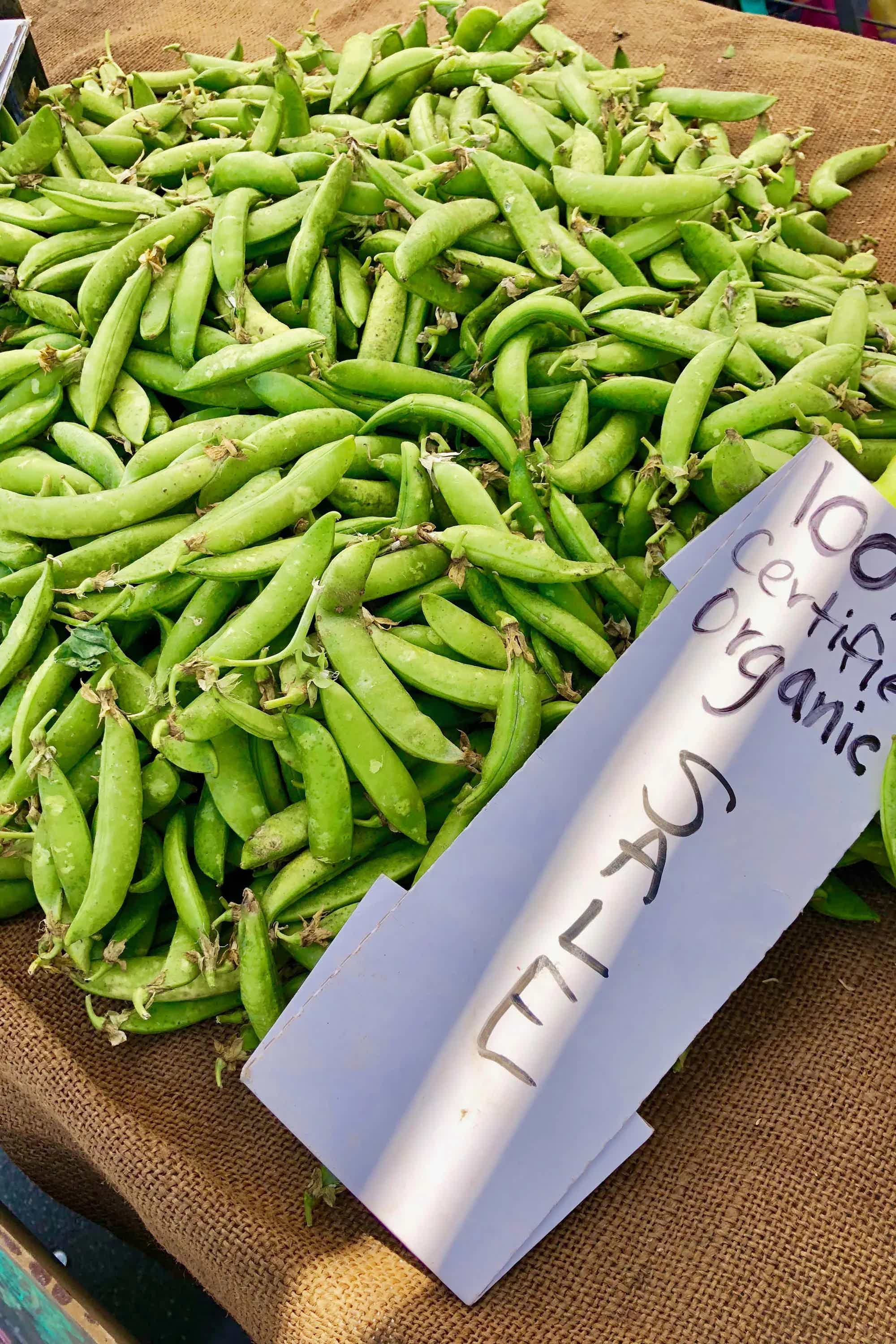 Are you mindful about where and how you shop for produce?
Yes, I have been on the local, organic train for about 20 years now. I mostly shop at my local farmer's market and a few runs to Whole Foods in-between. Both of my girls had horrible stomach issues as teens and numerous food allergies/intolerances, inflammation and a leaky gut, which led to anxiety, depression, ADD, OCD, etc. from the gut/brain connection. Leaky gut causes perforations in the lining of the intestine, so basically the food goes into the blood stream undigested, causing inflammation. For my girls, they had given up gluten, dairy, eggs, soy and more and they were still having inflammation. It was painful to watch their friends eating pizza and here they were with organic chicken and broccoli and still having inflammation. When you have leaky gut, it's like your body becomes allergic to all food.
We got on top of it with a 100% organic diet, avoiding gluten, dairy, eggs and soy, major detoxification (Glutathione, Vitamin C intravenous drips and infrared saunas), plus gut healing supplements like probiotics, digestive enzymes, and Marshmallow Extract. Today both Camelia and Violet are physically and mentally in great health and they no longer struggle with inflammation. It's not easy to turn around gut health, but it's possible! They are proof of it.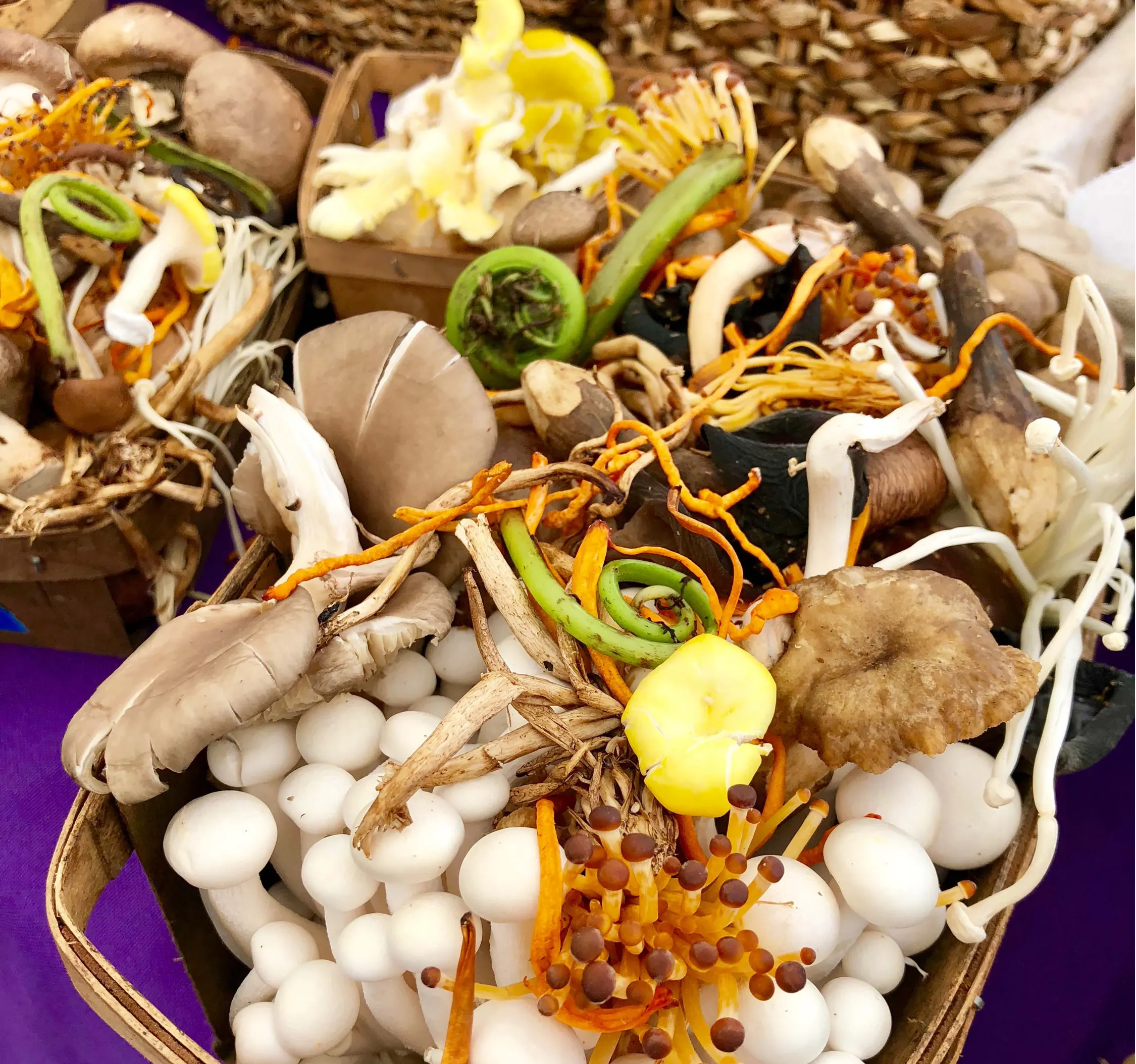 Do you snack throughout the day? If so, what are some of your favorites?
I have eaten an apple pretty much every day of my life. Honeycrisp are my favorite. When I want a salty snack, I love sliced jicama with lime and a sprinkle of tajine. It's the vegetable version of salty chips!
We admire how you cook for the family and you showcase it so beautifully on your Instagram stories.
Thank you! Sharing our meals on Instagram (@carolinesomers @brucesomersjr) and Facebook (@emptynestersfly) happened rather naturally during quarantine. I have always loved to cook and Bruce is a director, so he can't help but grab a camera-phone and make it a visual feast. We decided to turn off the news, turn on the music and enjoy our time together in the kitchen. I've had so many followers say they find our stories anxiety-relieving. I love that – and it works for us too! It's happened organically and if it helps give others some inspiration on what to make for dinner, that's awesome!
What is your version of an anti-inflammatory dinner for the whole family?
During a recent trip to the farmer's market I challenged myself to find new ingredients and make something exciting and different. My exotic discovery? Cordycep mushrooms! They are bright orange, with a light citrus note and have incredible anti-inflammatory properties. I love to sauté the cordyceps quickly with olive oil and tarragon, then place them on top of wild-caught pan-seared Chilean sea bass like in this recipe. It has such a wonderful buttery texture. This meal is gluten-free, dairy-free, soy-free, egg-free and organic – making it a perfect anti-inflammatory match for my girls – though anyone would be delighted by the delicious flavors.
---
Chilean Seabass With Cordycep Mushrooms & Summer Savory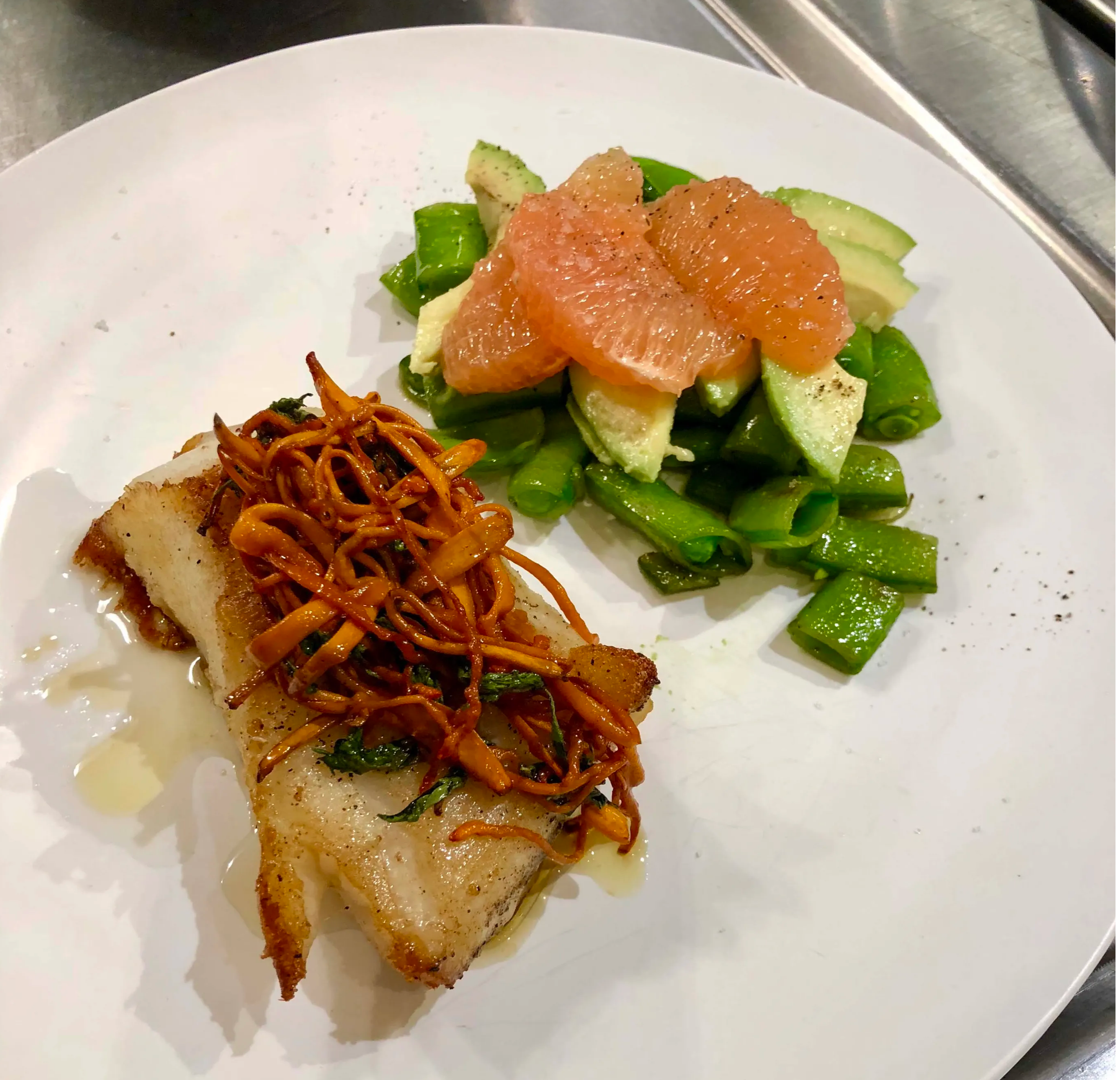 Extra virgin olive oil
2- 5 oz. pieces Chilean seabass
Sea salt and freshly cracked black pepper
1.5 cups cordyceps mushrooms (or chantarelles)
Extra virgin olive oil
2 tsps chopped summer savory (or tarragon)
Preheat oven to 350 degrees.
Season the sea bass on all sides with sea salt and freshly cracked black pepper.
Place a large sauté pan with oven-proof handle on medium high heat. Add two tablespoons of olive oil to coat the bottom of the pan. Toss in the cordyceps and season with sea salt and pepper. Sauté for about two minutes to release the flavor. Add the chopped savory and sauté another 1-2 minutes. Remove the mushrooms from pan and set aside to keep warm. Using the same pan, add a little more olive oil and the sea bass. Sear the fish on all sides for a nice golden-brown crusty edge. Then place the whole sauté pan into the oven for about three minutes.
Remove pan from oven, being cautious of the hot handle. Place the sea bass onto serving plates, then top with the cordyceps. Serve with Snap Pea, Avocado & Ruby Red Grapefruit Hot & Cold Salad.
---
Snap Pea, Avocado & Ruby Red Grapefruit Hot & Cold Salad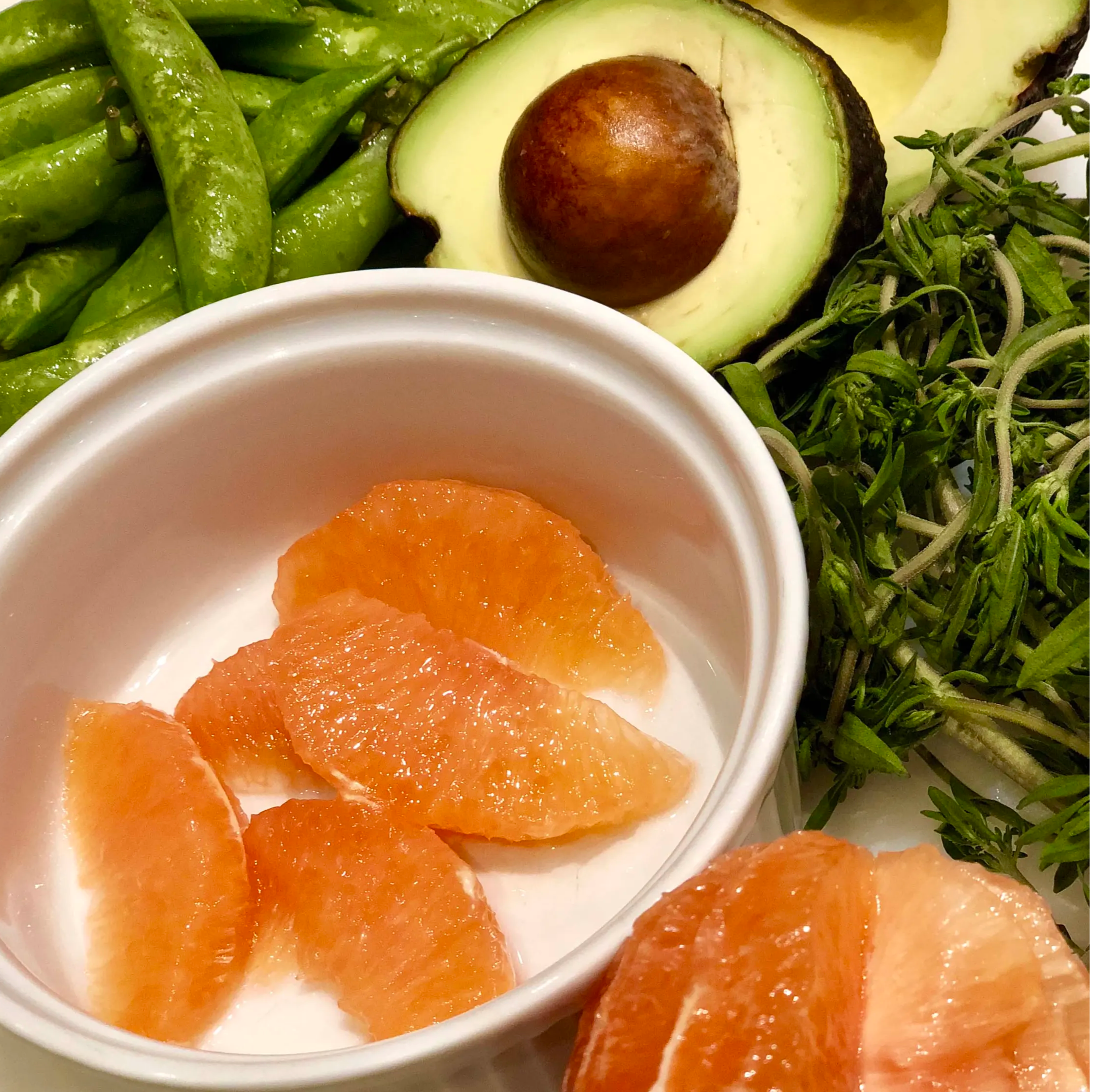 2 tsps extra virgin olive oil
2 cups snap peas, strings removed and chopped into 3 pieces
Sea salt and freshly cracked black pepper
1 avocado, sliced
½ ruby red grapefruit
Heat a small sauté pan over medium high heat. Add a little olive oil to coat bottom of the pan. Toss in the snap peas and season with salt and pepper. Saute for about two minutes until bright green and still a little crunchy.
Remove from heat. Scoop onto the serving plates and top with slices of avocado. Place a few pieces of the grapefruit flesh onto the avocado and spoon a little of the grapefruit juice over the top. Top with a little sea salt and pepper.
What is your go-to recipe for a quick and easy weeknight dinner?
I love a simple roasted chicken – you get a wonderful dinner, plus you have bones to make stock for the next night's soup. Here's a recipe that was really popular on my Instagram for Spatchcock Chicken with Lemon, Dill and Roasted Fennel. It's a one pan wonder and cooks faster than a normal chicken. Squeeze the roasted lemons all over the chicken – so delicious!
---
Spatchcock Chicken With Lemon, Dill & Roasted Fennel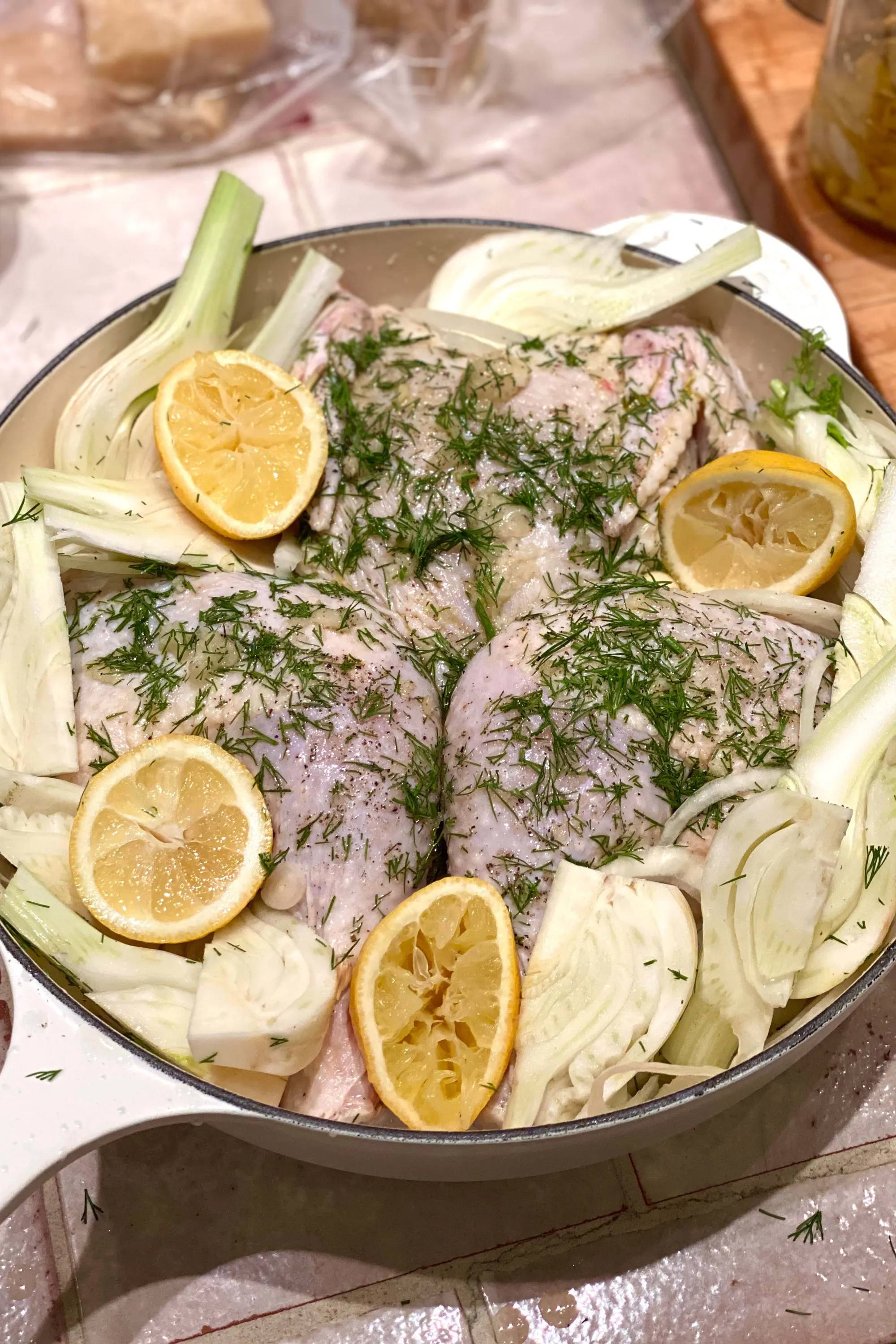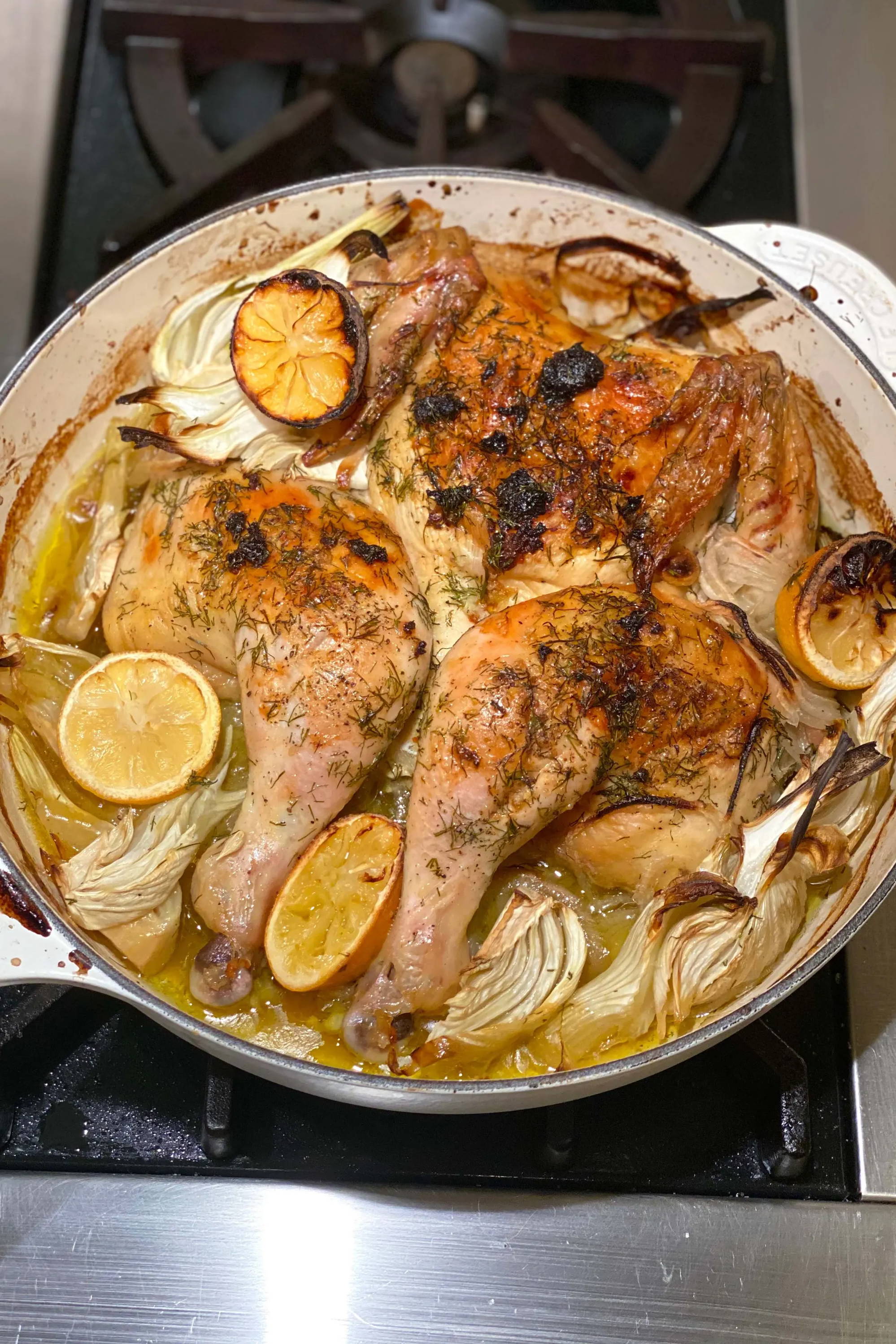 1 4-5 pound organic chicken, back bone removed (butterflied flat)
Extra virgin olive oil
Sea salt and freshly ground black pepper
8 cloves garlic, pressed
3 tbsps fresh dill, chopped
2 lemons, halved
2 bulbs fennel, halved then cut into quarters
Preheat oven to 400 degrees.
Slice onions and toss into a skillet or braising pan (or roasting pan). Drizzle with olive oil and season with sea salt and pepper. Season underside of the chicken with olive oil, garlic, sea salt, black pepper, and fresh dill. Place chicken, skin side up, on top of the onions and press it flat into the pan. Season the skin with olive oil, garlic, sea salt, pepper, and dill. Lightly squeeze lemons over the chicken, then place lemons into the pan. Add fennel around the edges of the chicken. Drizzle a little olive oil over the fennel, then season with salt and pepper.
Roast at 400 degrees for 45-55 minutes (until a meat thermometer in the thigh reads 160 degrees). Remove chicken from oven and let rest for 10 minutes.
Carve chicken by removing the wings with a small piece of breast meat attached. Remove legs and thighs. Slice breast meat. Serve with a generous amount of onions, roasted fennel, roasted lemons, plus a spoonful of pan drippings. Squeeze the roasted lemons over the chicken.
What about dessert? Do you have a sweet tooth?
Thankfully I don't have a sweet tooth! I'm a savory girl and save my indulgences for cheese and bread!
Do you have a favourite cocktail / mocktail or drink?
I love to cook Thai food and when I do Bruce makes lovely cocktails with ginger, mint, lime and sparkling water. They work as a non-alcoholic beverage or a great mixer for vodka or tequila. We also have an enormous hotel-size blender that turns these drinks into frozen resort cocktails! For Mexican food, I also love his Frozen Spicy Paloma with fresh squeezed grapefruit juice!
Most of the time if I am enjoying a drink, it's Codigo Rosa tequila with one large ice cube. It's pink, clean and perfect!
---
Charly Sturm is a long term member of Team Sturm and one of our regular Doctors Notes contributors. She grew up learning about the importance of science behind skincare and the key aspects of living an anti-inflammatory lifestyle.