Team Sturm sat down with Dr. Barbara Sturm to have a conversation about our newest product, the SUPER ANTI-AGING FACE CREAM. With so many wonderful creams in Dr. Barbara Sturm's line it's important to know which one is best for your skin. We thought we'd go right to the source and ask Dr. Barbara Sturm herself. Read on for everything there is to know about the SUPER ANTI-AGING FACE CREAM.
Team Sturm: Can you tell us a little bit about what makes the Super Anti-Aging Face Cream unique?
BARBARA STURM: I am really excited about announcing this product. It is perfectly formulated and stays true to the quality of all my products. What makes the SUPER ANTI-AGING FACE CREAM unique though, besides being my newest invention, is that its base is a biomimetic formulation, meaning it is structured like and mimics the lipid barrier of the skin. It gives skin the perfect base and instantly strengthens the protective skin barrier, making it more resistant. This resistance helps with all kinds of skin issues someone might experience and while all of our creams support and strengthen the skin barrier, this one excels.
It is my highest strength formula with the widest and strongest anti-aging efficacy spectrum.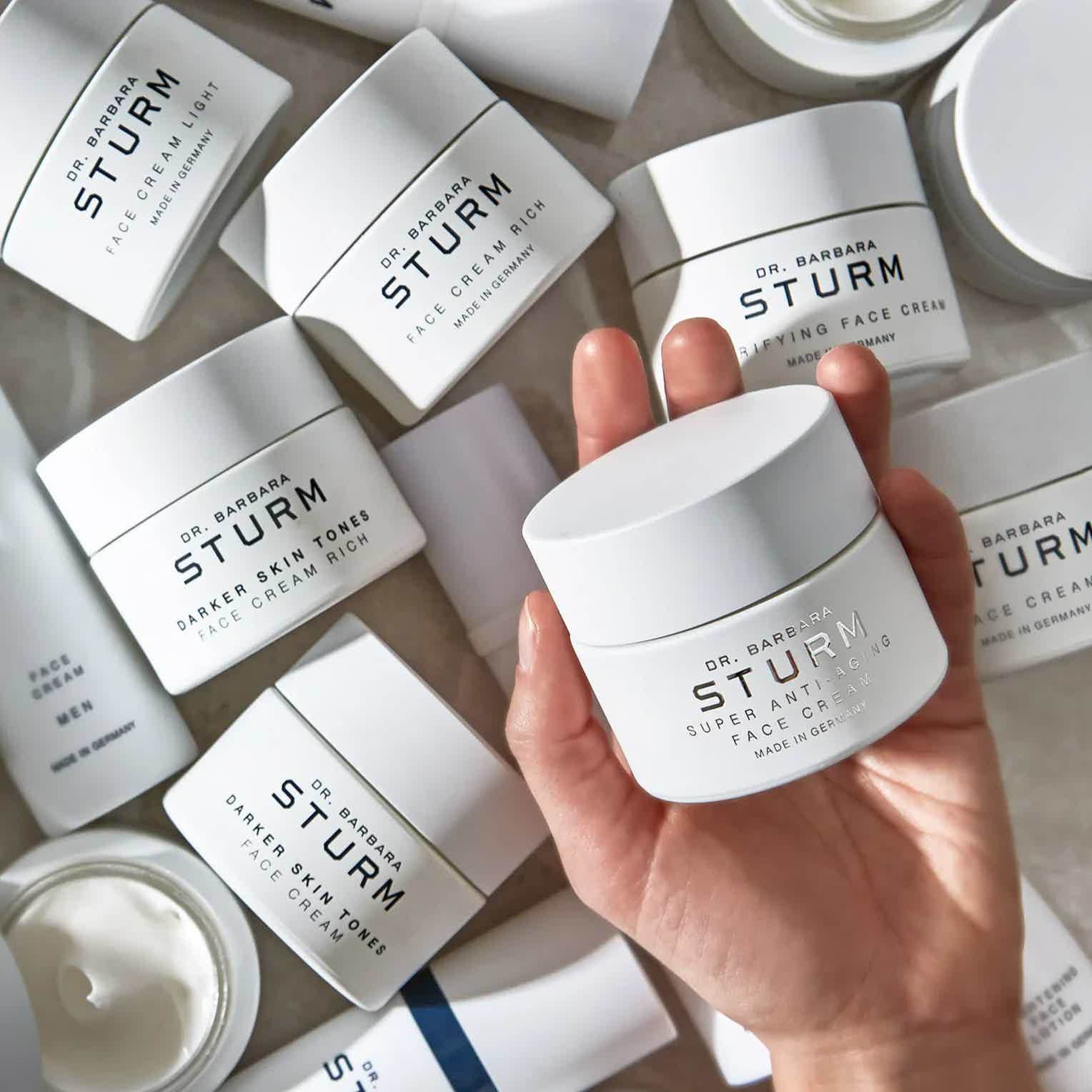 What are the key ingredients that make the SAAFC so effective?
BB: With age, physiological skin mechanisms naturally diminish. They begin to work slower and become weaker, for example collagen and lipid production, which both create elasticity and the skin's ability to neutralize oxidative stress. The SAAFC supercharges the skin with a unique complex of ingredients that create longer lasting skin barrier function, boost hydration, plump the skin and promote skin health. Most products and creams can target and support one or two things, however, this cream is loaded with ingredients that work on many levels. For example, Meadow Knotweed Extract that enhances nourishment of the epidermis, through closer contact between the nurturing dermis and the basal layer of the epidermis, while biopolymers from Marine Plankton help stimulate the production of collagen and elastin. And it's packed with Purslane, of course, a powerful, anti-aging powerhouse, which also helps soothe irritation. The SAAFC stimulates anti-aging in all areas where it is needed. It's the biggest multi-talent in my entire range, targeted for skin that needs strong anti-aging and richness, with an incomparable texture and feel to it.
What skin type is the SAAFC ideal for?
BB: I created the SAAFC with mature skin in mind, but also for anyone who is experiencing premature signs of aging. If you are looking to add an extra boost of powerful anti-aging ingredients into your routine, then the SAAFC is perfect. It can also be weaved into your regimen here and there, alternating between FACE CREAM and the SUPER ANTI-AGING FACE CREAM.
What kind of results can we expect to see after using the SAAFC?
BB: There are many things that the SAAFC will do for mature skin. It targets and reduces fine lines and wrinkles, strengthens the skin's matrix, promotes the skin's overall mechanisms that naturally diminish with age, provides deep water-binding hydration and has instant visible effects as well as offering a long-term hydrated and moisturized feel. It also helps strengthen the skin barrier and lends to natural skin lipids and its fast absorption won't leave a film or residue on the skin's surface.
Should the SAAFC be used in the morning or at night?
BB: It can be used morning or night, depending on the results you want and the maturity of your skin. I would recommend only those with mature skin to use it twice daily. I suggest using the SAAFC after my SUPER ANTI-AGING SERUM if you are using it in the morning or with the NIGHT SERUM if you are using it before bed.
What routine do you recommend following with the SAAFC?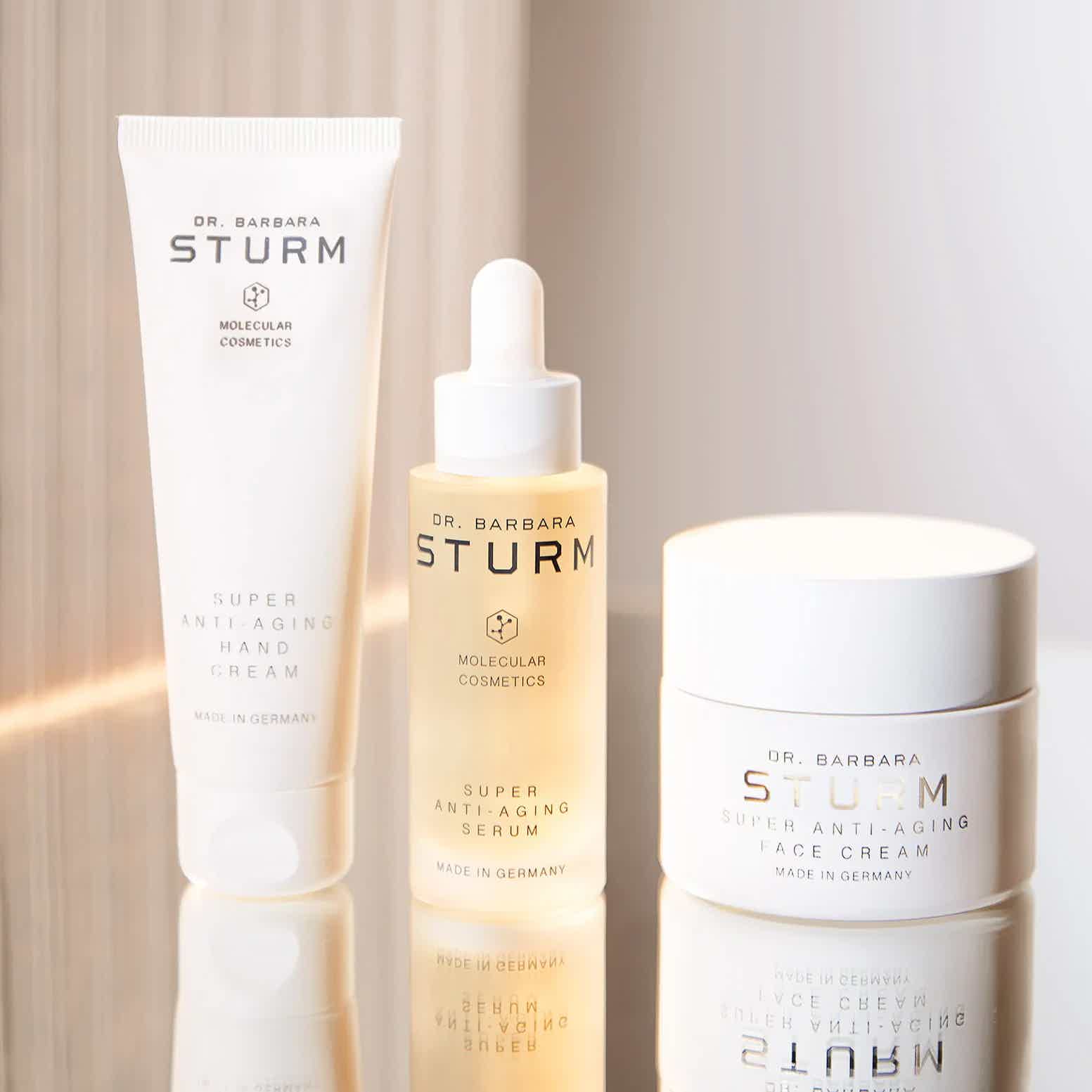 How does the texture of the SAAFC differ from the other creams in your line?
BB: The SAAFC is rich, yet has the texture of whipped cream. It's decadent but it also sinks into the skin quickly without leaving any residue on the surface for really comfortable all day or night wear. Even though it is richer than the FACE CREAM RICH it does not feel as thick since the biomimetic base instantly builds into the skin barrier.
How should the SAAFC be applied?
BB: It can be applied morning and night for those with more mature skin, and once a day for those who are experiencing premature signs of aging. It's especially useful in months where weather conditions are harsher on the skin, like winter and summer.
---
HOW TO USE: SUPER ANTI-AGING FACE CREAM
---
DR. BARBARA STURM'S SUPER ANTI-AGING PANEL
Dr. Barbara Sturm is joined by leading wellness, beauty and lifestyle experts for an exclusive conversation around anti-aging; Digital Director of Shape Magazine, Sade Strehlke; Osteopath and Founder and CEO of Saint Supply, Vicky Vlachonis; Co-Founder and CO-CEO of Sakara Life, Whitney Tingle; celebrity facialist and Founder of The Beauty Sandwich Method®, Iván Pol; and the Founder of the wellness platform, Eat Burn Sleep, Yalda Alaoui.