DR. BARBARA STURM INSIDE COLLECTION features five skin-boosting supplements tailored to specific skin needs, issues, and goals and are fundamental building blocks to integrate into your anti-inflammatory lifestyle. Diet is key in reducing systemic inflammation and promoting skin and overall health, however, fast paced lives can make it more challenging to enjoy a balanced diet and nutritional deficiencies are common. STURM INSIDE includes holistic, healing and nutritive ingredients which work in tandem with your skincare for healthy, youthful skin and, as well as taking with water, can be opened up and added into your meals for a super, nutritive boost. Here are five easy and delicious recipes which include the STURM INSIDE Collection to inspire you.
---
Overnight Oats


with SKIN PROTECTION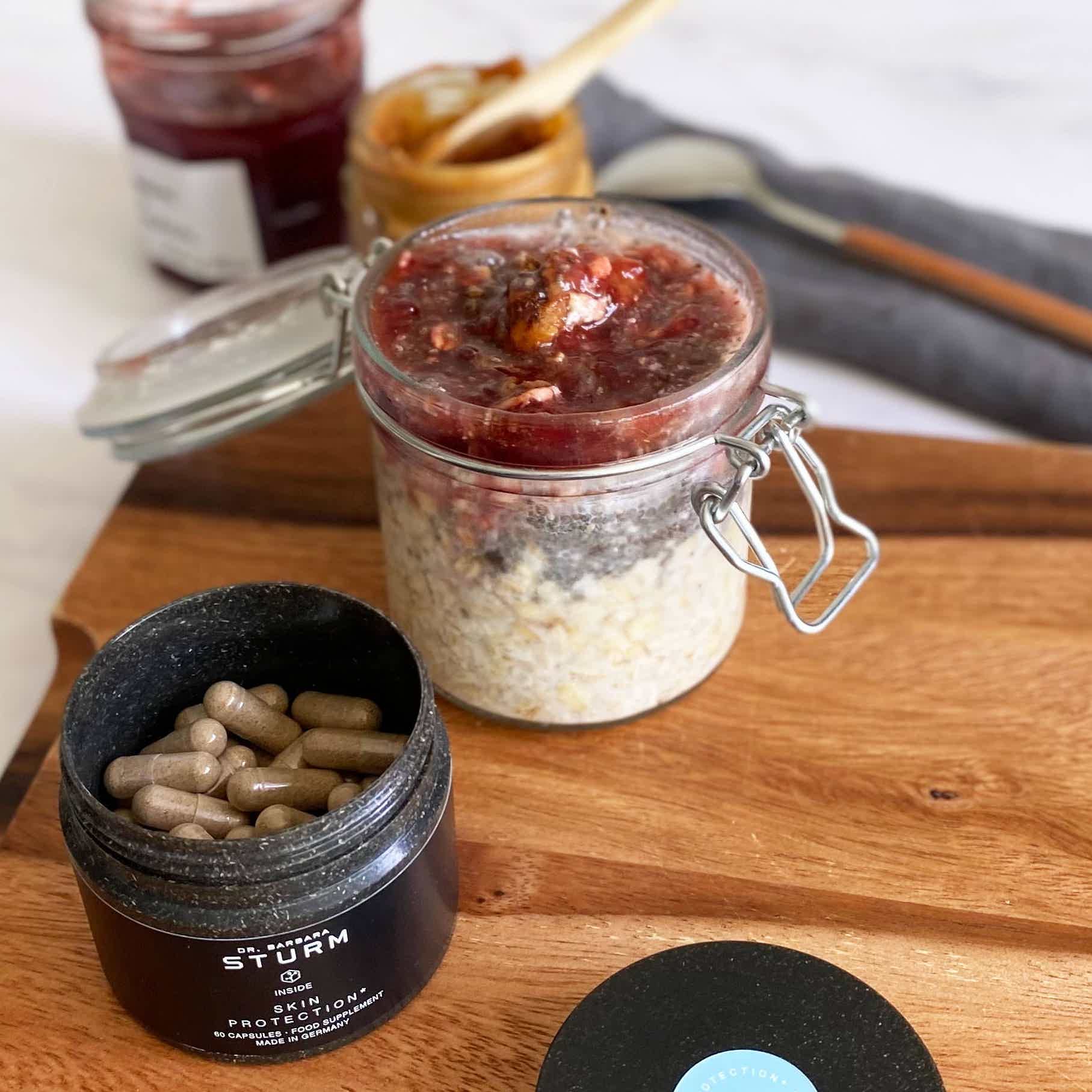 Overnight oats make for an easy breakfast that you can prep in advance for the whole week. Top with your favorite fruit, nuts, jams, or honey to customize them for each day.
½ cup rolled oats

1 tablespoon chia seeds

Pinch of salt

1 cup non-dairy milk

2 capsules SKIN PROTECTION
To one mason jar combine ½ cup of rolled oats, one tablespoon of chia seeds, a pinch of salt and one cup of non-dairy milk. Stir in your customized ingredients for whichever flavor you desire. Seal the jars and store them in the fridge for up to five days. Before enjoying, sprinkle two capsules of SKIN PROTECTION over the top of your oats, stir and serve.
Swipe across to read full recipe
SKIN PROTECTION was designed to create a protective shield to the skin and body. It boosts natural barrier function, provides protection against pollution, and increases the skin's resistance to chemical and physical stress and is the perfect addition to your breakfast to kick start your day.
ANTI-INFLAMMATORY SMOOTHIE BOWL


with SKIN ANTI-PIGMENTATION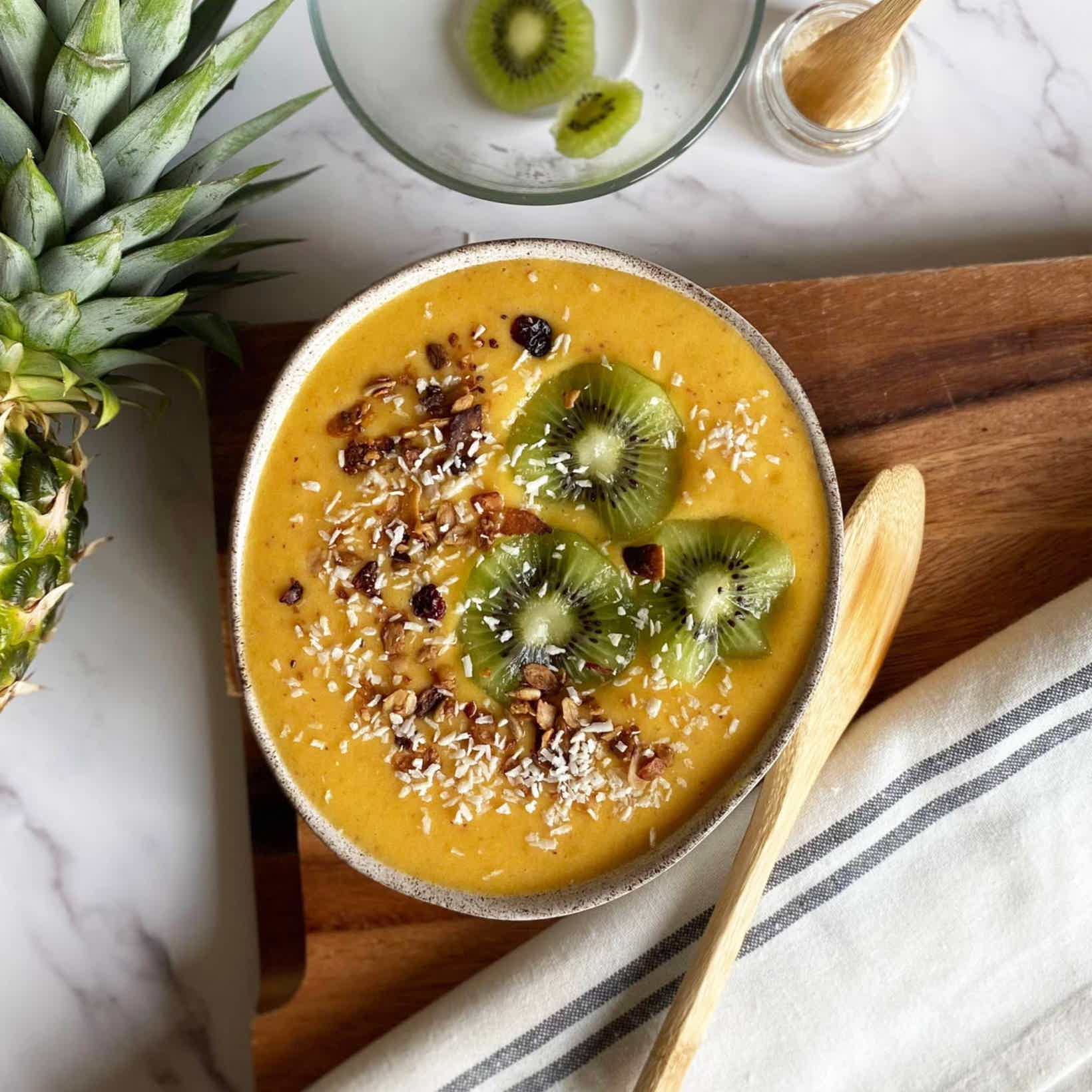 This smoothie bowl contains ingredients like turmeric which can aid digestion and ginger, which is packed with antioxidant compounds. SKIN ANTI-PIGMENTATION supercharges this anti-inflammatory bowl with skin soothing ingredients for a healthy glow and optimized skin barrier function.
1 frozen banana

150 ml orange juice

2 pineapple slices

1 peach

1/2 tsp turmeric

1/4 tsp fresh ginger

1/2 tsp maple syrup

1 tsp lemon juice

2 capsules ANTI-PIGMENTATION
Add all the ingredients to a blender, and open two capsules of the ANTI-PIGMENTATION supplement and add to the mixture. Blend until smooth. Transfer into a bowl and decorate with your desired fruit, nuts, or granola.
Swipe across to read full recipe
SKIN ANTI-PIGMENTATION is a balancing nutrient complex for clear and even-looking skin. With regular use, it gradually fades pigmentation, while nourishing the skin and supporting renewal for a bright, balanced, and glowing complexion.
SWEET & SPICY CUCUMBER SALaD


with SKIN SUPER ANTI-AGING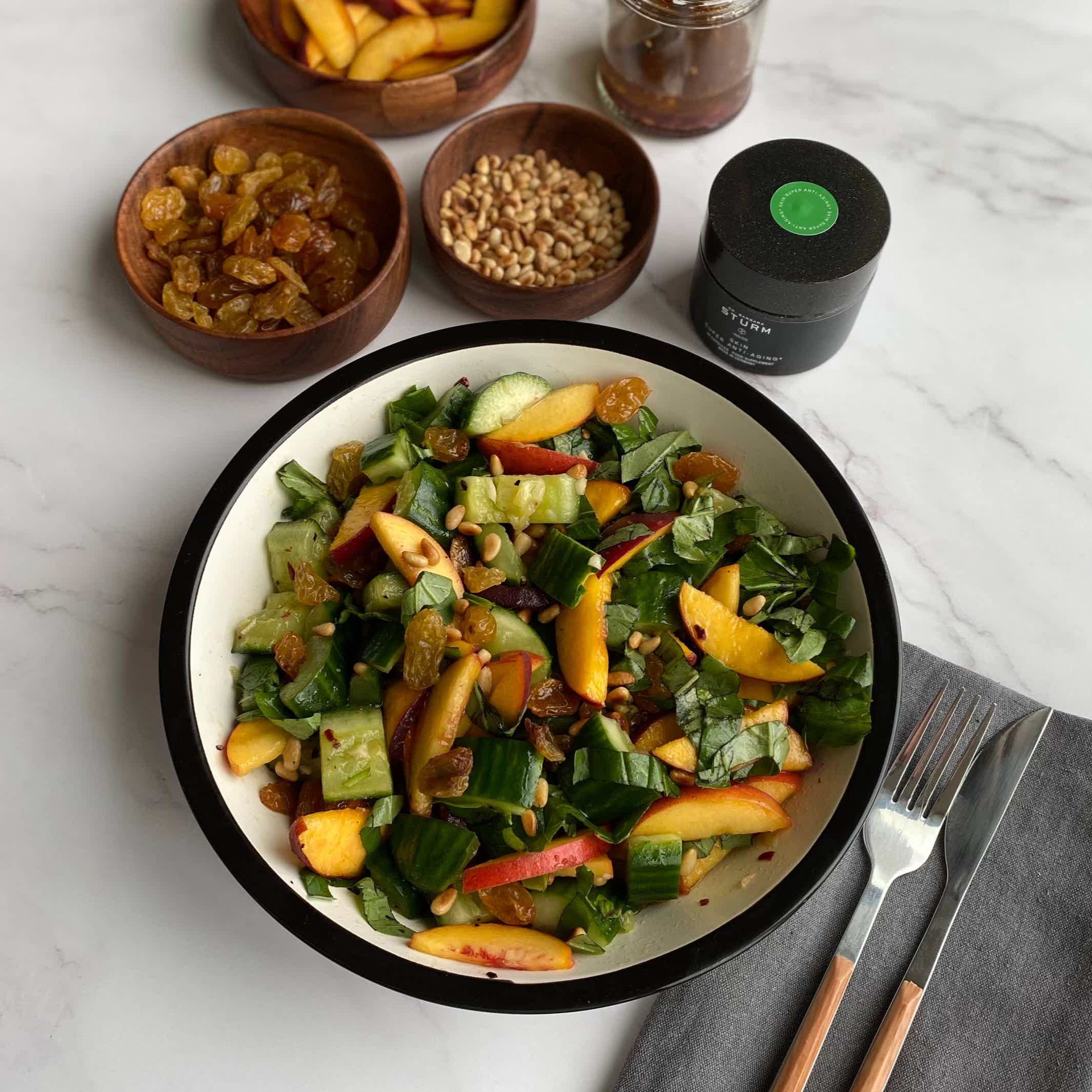 This cucumber salad is healthy, fresh and delicious - while also being incredibly nutritious. Cucumbers are high in nutrients and low in calories but contain vitamins, minerals and antioxidants that can reduce internal inflammation and replenish moisture in the body and skin. With the addition of SKIN SUPER ANTI-AGING, this dish provides an instant dose of hydration from the inside out.
5-6 mini-Persian cucumbers (or 1 large English cucumber)

2-3 ripe but firm peaches, sliced






Sweet and Spicy Vinaigrette:

2 garlic cloves, crushed

½ teaspoon red pepper flakes, plus more to taste

2 tablespoons red wine vinegar

1 teaspoon pure maple syrup

2 tablespoons good quality extra virgin olive oil

Kosher salt and black pepper to taste

2-3 tablespoons pine nuts

2-3 tablespoons golden raisins

One handful of fresh basil leaves

2 capsules SKIN SUPER ANTI-AGING
Smash the cucumbers using the back of a heavy knife, until the cucumber cracks open into a few pieces and tear into rough chunks. Place in a colander and sprinkle with a little kosher salt and place on top of a bowl. Allow the cucumbers to rest for at least 15 minutes, or up to one hour then discard any liquid collected in the bowl. Meanwhile, toast the pine nuts in a dry skillet over a medium-low heat and toss occasionally until golden brown. To make the vinaigrette, crush the garlic cloves and add them to a bowl, along with the red pepper flakes, vinegar, and maple syrup. Whisk to combine, then stream in the olive oil, whisking as you go. Open the SKIN SUPER ANTI-AGING capsules and pour the contents in. Finally, add the drained cucumbers to a large serving bowl with the sliced peaches and toss with the vinaigrette. Top with the toasted pine nuts, golden raisins, and slivered basil.
Swipe across to read full recipe
SKIN SUPER ANTI-AGING's potent ingredient science includes Zinc and Selenium, which contribute to the maintenance of skin health and help to protect from oxidative stress. Anti-aging compounds from Purslane, Astaxanthin, Coenzyme Q10, Glutathione and Bamboo Extract promote a smooth, radiant, and younger-looking complexion.
COCONUT, CELERY, KALE & GINGER GREEN SOUP


with GOOD NIGHT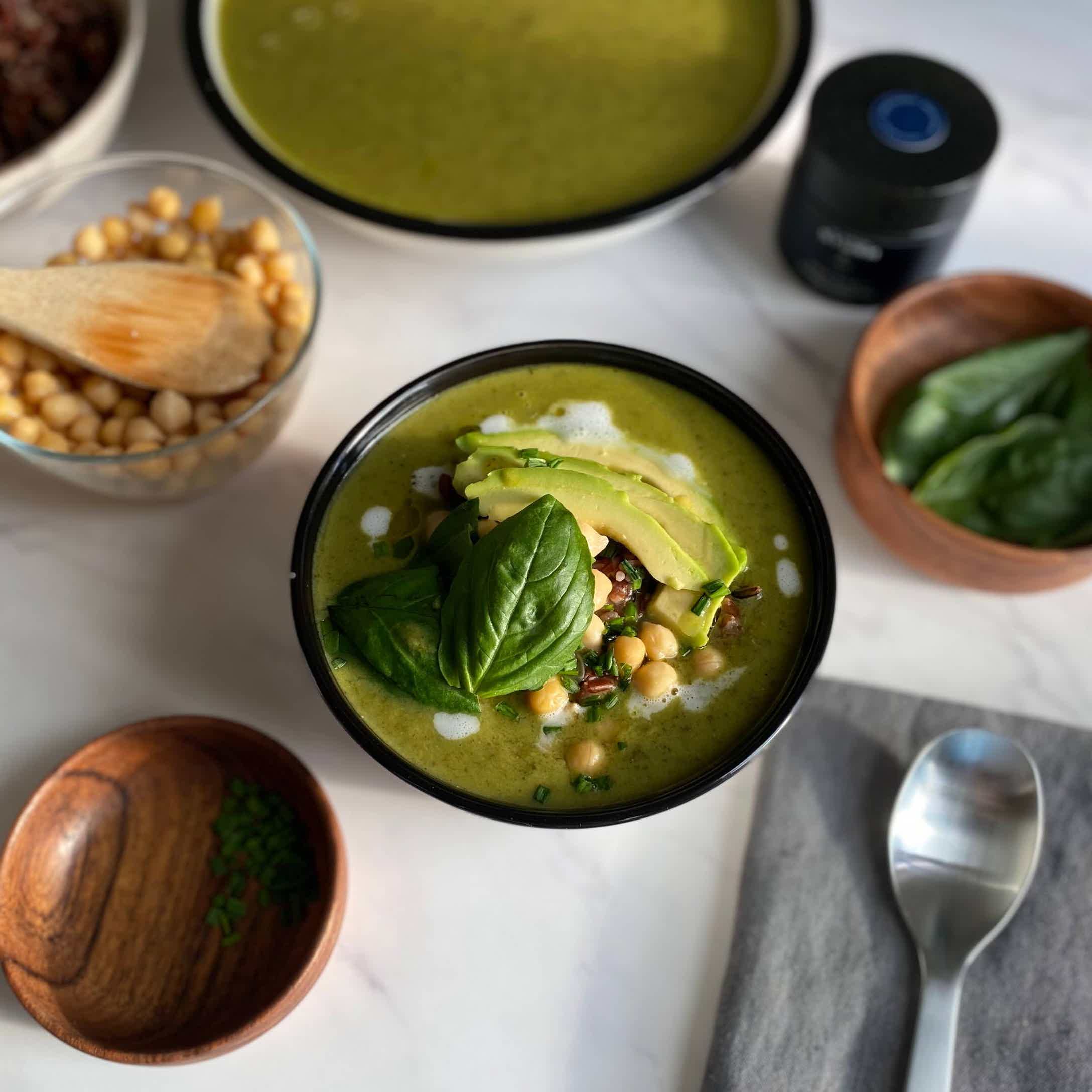 This warming soup contains superfoods like Kale and Ginger to support immunity and gut health while also soothing you from the inside out. It's the ideal calming and light dinner recipe and couples perfectly with GOOD NIGHT to promote deep and regenerative sleep.
1 tsp whole cumin seeds
1 tsp whole coriander seeds
2 tsp coconut oil
1 large shallot, chopped (about ¾ cup diced shallot)
1 medium zucchini, chopped
1 small bunch of celery, chopped
1 medium apple, peeled, cored, and chopped
3 inches fresh ginger, peeled and chopped
6 cups vegetable stock
Sea salt and ground black pepper, to taste
4 cups kale and chard, chopped
1 14-ounce can full fat coconut milk
2 tbsp lime juice
2 capsules GOOD NIGHT
Heat a large, heavy pot over medium heat. Add cumin and coriander seeds and toast dry until fragrant for about one minute then remove, grind to a powder and set aside. Add the coconut oil into the pot and let it melt, then add the shallots and cook, stirring frequently, until soft and translucent. Add the zucchini, celery, and apple and stir, then add the ginger, cumin and coriander and stir again to distribute the spices among the vegetables before adding the vegetable stock. Season with salt and pepper. Bring the vegetables and broth to a boil and then simmer, stirring every couple of minutes until the zucchini is very tender. Add the chopped greens and coconut milk to the pot and stir to mix. Keep simmering and stirring until the greens have wilted, then remove from heat. Purée the soup with a stick blender then return to the pot and bring to a boil. Stir in the fresh lime juice, adjust the seasoning and serve with any garnishes you like. Add your GOOD NIGHT capsules once the soup has cooled by opening the capsules and stirring in the contents or take separately with water. *
Swipe across to read full recipe
GOOD NIGHT contains a blend of natural ingredients that can help calm the body and mind for a more restorative night of sleep. Its nutrient-rich complex includes the calming herbs Lavender Flower Extract, Valerian, Passionflower, and Hops as well as 5-HTP and Vitamins B12 and B6, which contribute to the normal, healthy functioning of the nervous system, which is necessary to enhance the quality of your beauty sleep.
VEGAN & GLUTEN FREE PANCAKES



with SKIN RECOVERY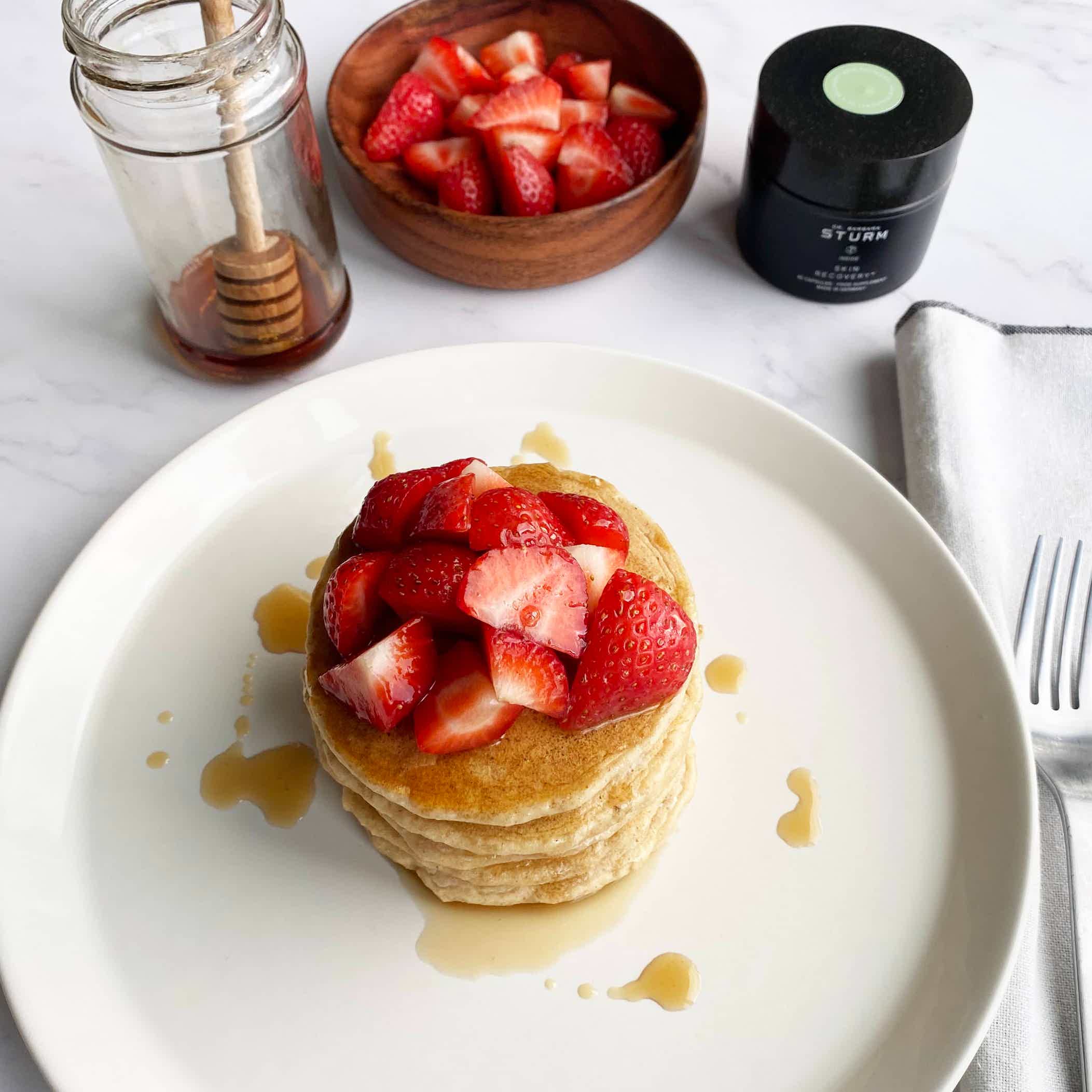 These vegan and gluten-free pancakes are the perfect sweet treat and a great source of essential nutrients. Apple sauce is easy to digest and contains pectin, a water-soluble fiber whilst oat flour is a good source of protein, calcium, iron and potassium.
1/2 cup unsweetened apple sauce

1/2 cup non-dairy milk

1 tbsp lemon juice

1–2 tbsp maple syrup

1 tsp vanilla extract

1 1/4 cup oat flour

1/2 tsp baking powder

1/2 tsp baking soda

1/4 tsp salt

2 capsules SKIN RECOVERY
In a large bowl, whisk together the apple sauce, non-dairy milk, maple syrup, lemon juice and vanilla extract. Next, add the dry ingredients and stir to combine until smooth. Heat up your non-stick skillet over a low heat and scoop about ¼ cup of batter per pancake on to the heated pan. Cook for about 4-5 minutes on each side. Mix in two capsules of SKIN RECOVERY with maple syrup to top the pancakes and enjoy.*
Swipe across to read full recipe
SKIN RECOVERY was developed to support skin regeneration for irritated, damaged, or acne-prone skin. It contains Zinc, an oft-deficient micronutrient that has been widely studied for its potent antioxidant properties,. Vitamin C, which promotes collagen formation and potent, plant-based compounds including Purslane, Ginger Root and Grape Seed Extract.
---
*Dr. Barbara Sturm's STURM INSIDE supplements should not be overheated or boiled. If you are using them in a warm recipe add them at the end once the dish has cooled or take them separately.
---