Many of us have a three to six step skincare routine that we do daily to take care of the skin on our faces - but zero to one step for our bodies. However, the skin on our bodies goes through a lot of change, just like on our faces, and can be prone to dryness, premature aging, and inflammation. Dr. Sturm's SUPER ANTI-AGING BODY SERUM was created to give the body its own targeted serum step, and to provide the ultimate in anti-aging ingredient science for healthy, youthful-looking skin from head-to-toe.
Why do I need a body serum?
The skin on our bodies tends to be thicker and is typically less sensitive than the skin on our faces - it has less oil glands and hair follicles and is often drier. Age-related changes to the skin on the body, like those on the face, can include thinning, sagging, wrinkling, and in areas frequently exposed to the sun, the appearance of age spots. The body can also experience stretch marks, particularly after weight fluctuations and during pregnancy. Serum formulations are made up of very small molecules which deliver a concentrated form of ingredients into your skin and are absorbed more quickly, deeply, and effectively than a cream or lotion, so they're able to perform targeted functions deep down in the skin. However, they do not replace a cream – you should still apply this over your serum to lock in hydration.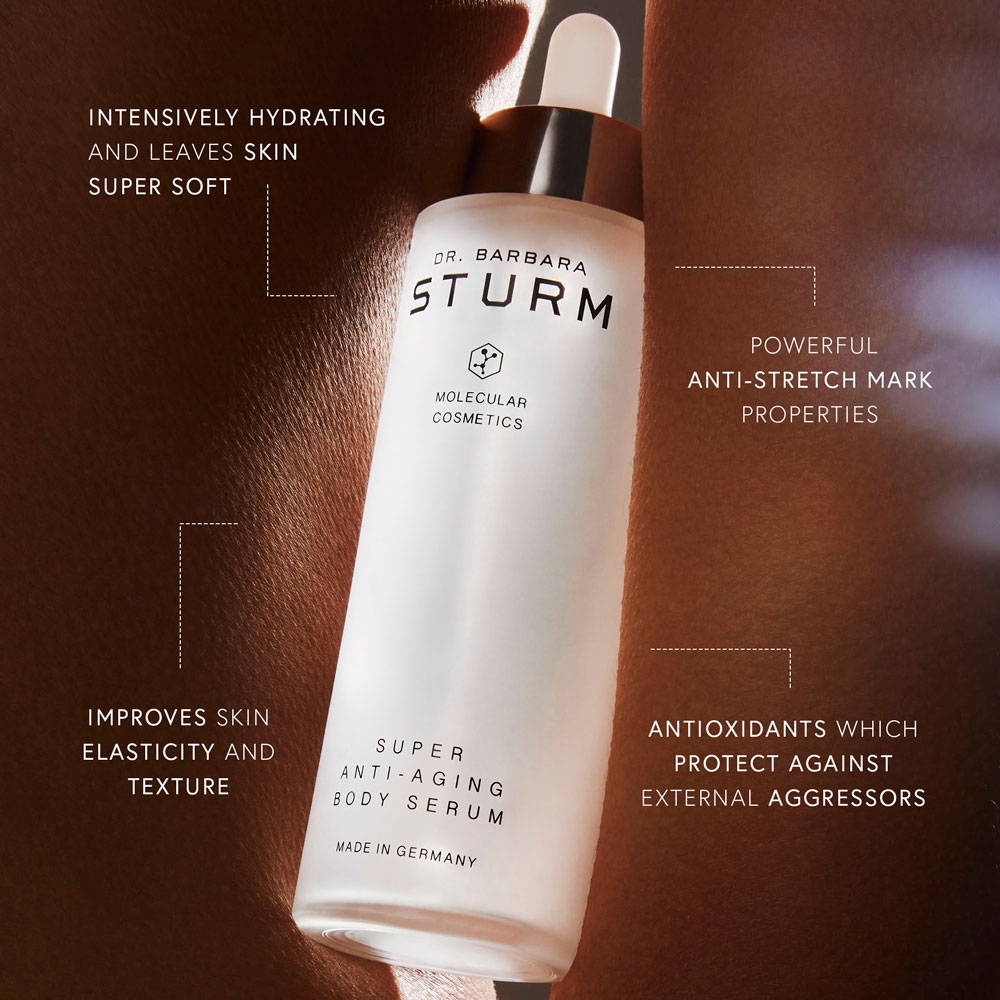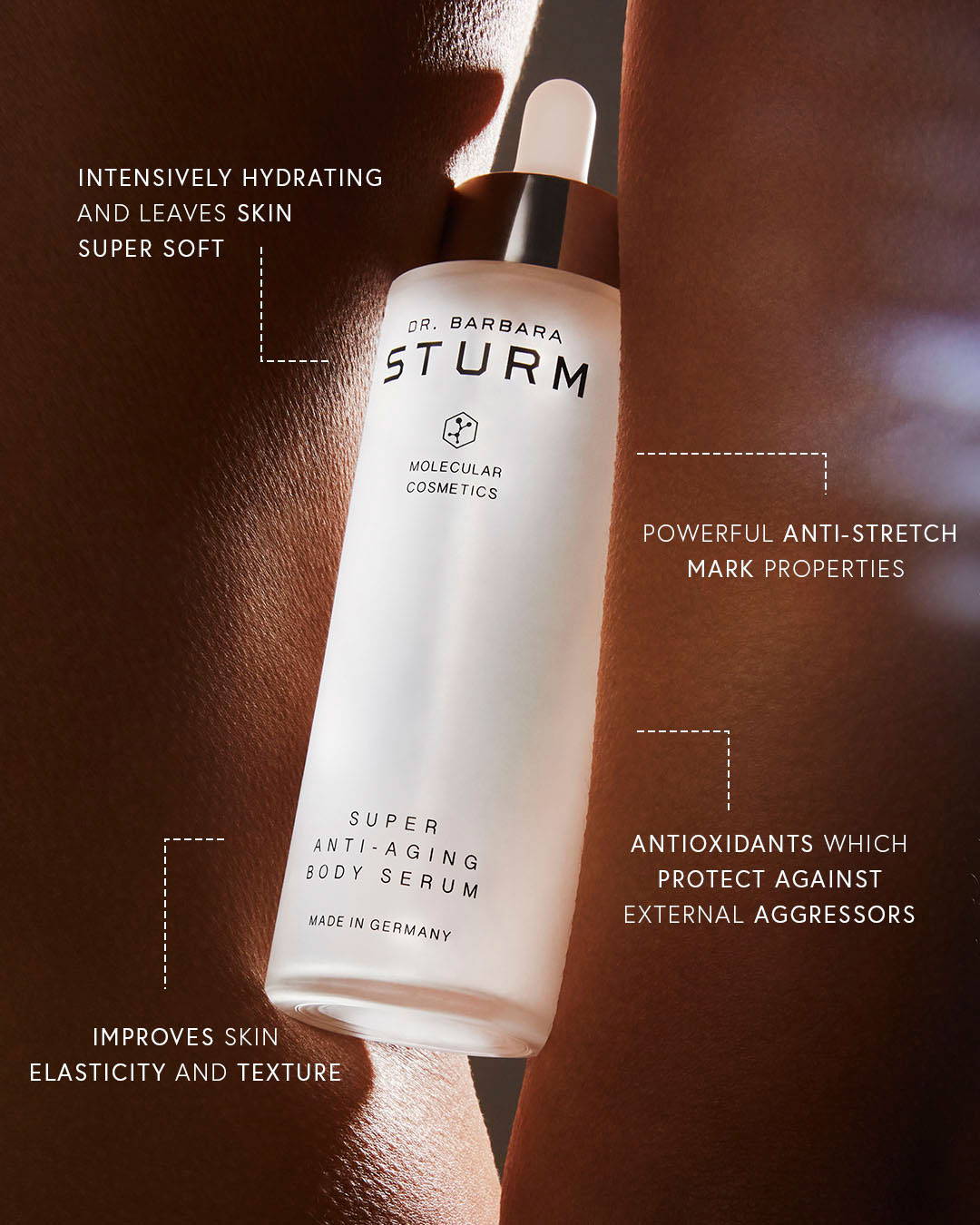 What are the benefits of using the Super Anti-Aging Body Serum?
The SUPER ANTI-AGING BODY SERUM specifically and holistically addresses multiple functions and renewal mechanisms of the skin for optimal body care. Its lightweight, Hyaluronic Acid-based formulation is super hydrating and ingredient dense, offering smoothing, firming, anti-wrinkle, anti-aging, and antioxidant benefits for the whole body. Anti-stretch mark properties are found in ingredients like Lima Bean, Peptides and Bioflavonoids that together, have a protective effect against elastin degradation, duo Hyaluronic Acid and Brown Algae Extract provide deep hydration, and powerful antioxidants Glutathione and Purslane protect skin from external aggressors. It leaves skin with an immediate glow and radiant, healthy suppleness.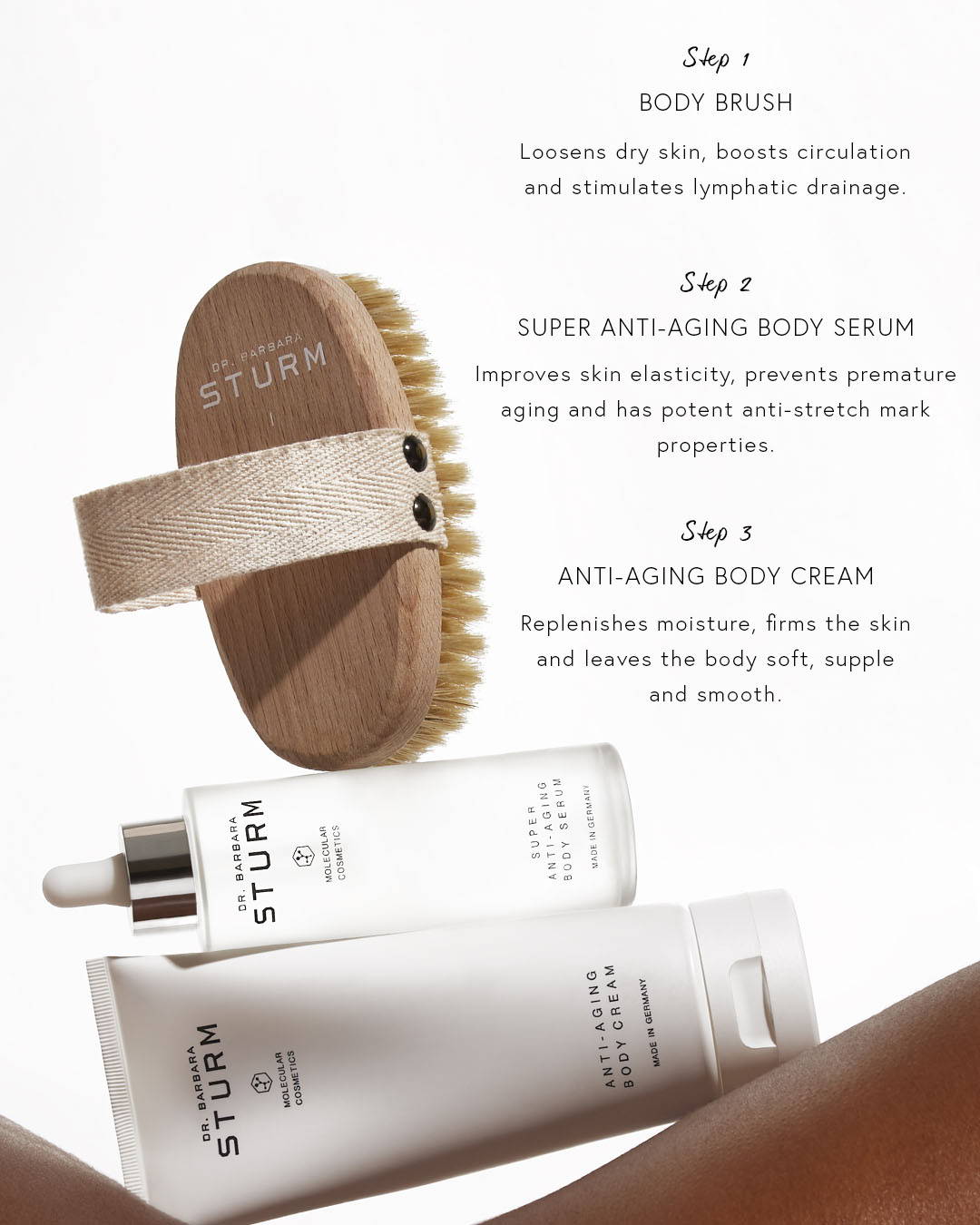 How can I incorporate the Super Anti-Aging Body Serum into my routine?
Apply the serum immediately after you shower, allowing it to fully absorb, and then apply the ANTI-AGING BODY CREAM to lock in hydration. To boost your body routine, you can also include body brushing before the shower to stimulate blood circulation, gently remove dry skin, and help with lymphatic drainage. The SUPER ANTI-AGING BODY SERUM is ideal for anyone concerned about fine lines, loss of elasticity, stretch marks and wrinkles and is effective as both a preventative and corrective treatment. The formulation is fragrance-free and suitable for sensitive skin.

---